Protest held against Hungary's PM Orban
Comments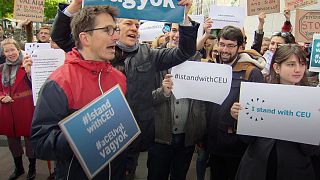 A group of demonstrators have held a protest outside the European Parliament as Hungarian PM Viktor Orban answered criticism from MEPs.
Budapest is under fire for education reform that could close a foreign-backed university.
"We are together here with the civil society representatives who are also threatened by currently proposed laws in Hungary, and we stand also for the rule of law," said Lina Vosyliute, a graduate of the Central European University, which is being targeted by the law.
The demonstrators called for Orban's Fidesz to be kicked out of the centre-right European People's Party.
A former founder member of Orban's group said it has drifted too far to the right.
"It is very far away from today (Fidesz). For me this is shocking. On the other hand I saw the process. I saw with pain how a formerly liberal party has changed. But for Fidesz, power was more important than keeping to political principles," said Gabor Fidor, who now sits as a Liberal MEP.