Hungary's PM Orban rebuffs EU criticism of university law
Comments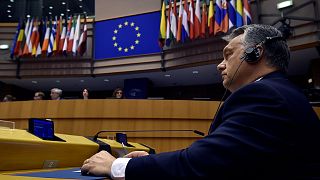 The European Commission on Wednesday opened a legal case against Hungary over a new higher education law that threatens to shut down a George Soros-backed university in Budapest.
Michael Ignatieff, the rector of the Central European University, was in Brussels on Tuesday to speak out against the move and seek supports from MEPs.
EU officials believe the legislation, passed on April 4, is a threat to academic freedom.
"The Commission's analysis of the law confirms our concerns with regard of its (compatibility) with internal market freedoms and the Charter of Fundamental Rights. The college has therefore decided today to launch infringement proceedings against Hungary, sending a formal letter of formal notice," said Frans Timmermans, the first vice-president of the European Commission, during an address to MEPs.
But Prime Minister Viktor Orban brushed off the complaints from the EU executive, saying the move was legal.
He told parliamentarians that the commitment of the Hungarian government towards the EU cannot be questioned.
"Hungarian politics was built on this during the past 30 years," Orban said.
The law forces foreign-funded universities to have a campus in the country where they are registered.
Central European University is registered in New York, but has no campus there.