Trudeau seeks to reassure Europe over CETA deal
Comments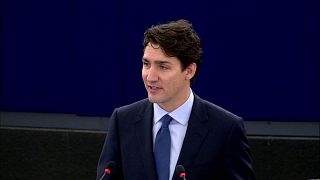 Canadian Prime Minister Justin Trudeau has given a robust defence of free trade as so-called populist parties make gains across Europe.
Speaking to MEPs in the European Parliament, he said:
"We live in a time when many people are worried that the current system only benefits society's luckiest few. And their concern is valid, the anxiety people have toward the economy and trade, the worry that our kids won't have access to the same jobs and opportunities that we have can be addressed only if we ensure the trade is inclusive so that everyone benefits"
Trudeau made his address one day after MEPs voted in favour of ratifying the EU-Canada free trade deal.