In conversation with EU defence and security official Pedro Serrano
Comments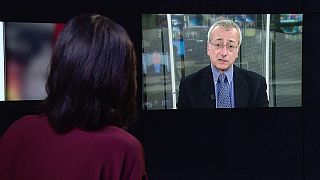 Is there a way out for irregular migrants in Libya, or are they condemned to die there or perhaps at sea if they attempt the journey to Europe? And who is to blame? The Libyan authorities, smugglers, Europe and international aid agencies as some point out in the report?
---
Sophie Claudet, Euronews:
"The UN-backed Libyan government says that operation Sophia is a blessing in disguise for smugglers while it used to take probably 200 nautical miles before the migrants were rescued, now it's about twelve. So smugglers will pile them up on boats knowing that they will be rescued, so the migrants will be encouraged to take to the sea."
Pedro Serrano:
"We do not consider this as an operation that attracts migrants. It saves migrants in different ways. By saving them physically from the sea. Operation Sophia so far has directly has saved about 30-thousand persons and I think that was a main goal for the European Union, but also by addressing criminal bands (gangs) that are responsible for migrant trafficking and Operation Sophia has detained more than 100 traffickers and also destroyed a large number of vessels that were used by traffickers. By doing this, it discourages the practice."
Sophie Claudet, Euronews:
"So in your mind it is a success?"
Pedro Serrano:
"It is having a number of successes in part of the tasks that it has been given, yes."
Sophie Claudet, Euronews:
"The Libyan authorities also complain that they don't receive enough logistical support from Europe and international agencies."
Pedro Serrano:
"We do not receive the same messages on our side. We are cooperating actively with the Libyan authorities, we are assisting the Libyan authorities as much as we can in terms of training and building their capacities. You know the present difficulties for the expansion of authority of the Government of National Accord, which imposes, inevitably, limitations.
"By training the Libyan coast guard, which is one of the tasks that Sophia has undertaken, we intend to help the Libyan authorities and the Government of National Accord, President Sarraj [note: he's actually the prime minister] to gain control over some elements that can provide security and that will be directly under the control of the GNA. So we are doing everything we can to empower the GNA as the legitimate authority recognised, as you rightly said, by the UN Security Council. So this is what we are currently doing."
Sophie Claudet, Euronews:
"And do you feel they receive all the equipment, all the logistical support that they need, because they've told us the opposite? Or it a matter of time?"
Pedro Serrano:
"The equipment and logistical support is in the pipeline. It's linked also to the training and to ensure that it will all be put to a proper use and that it falls into the right hands because it is a complex scenario right now in terms of who controls what in Libya, so there are obviously also limitations linked to these conditions."
Sophie Claudet, Euronews:
"Several human rights organizations have accused Europe of outsourcing its police work to Libya. Namely Europe can't send back migrants rescued at sea, so it is training Libyan coast guards to do just that, although Libya is a very dangerous place for migrants."
Pedro Serrano:
"The main goal of the European Union is saving lives and addressing the plight of migrants, and what we're doing is working with IOM as much as we can. The situation in those centres is horrible. I think we are really shocked and very worried about this.
"We are trying to address this together with Special Representative [of the Secretary-General and Head of the United Nations Support Mission in Libya Martin] Kobler, and with IOM and UNHCR. We're ready to put as many resources as necessary, but both the UN and ourselves are finding challenges in addressing this directly because of the situation in Libya because the control of the government over assets and state assets is so far limited."
This week Insiders euronewsinsidrs</a> <a href="https://twitter.com/euronews">euronews Libya: A Dead-End For Migrants a great reporter by valgauriat</a> <a href="https://t.co/6qu8mX8CDV">pic.twitter.com/6qu8mX8CDV</a></p>&mdash; angel lourido (alourido) December 7, 2016
Live updates from our Insiders team