Cries for help from migrants trapped in Libya
Comments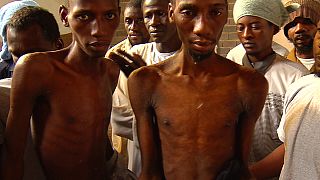 Five years after being plunged into instability after the fall of Muammar Gaddafi, Libya is a major crossroads of irregular immigration and is officially home to nearly 300,000 migrants.
We've realised we've become a business for them! They just want to make money off our back!

Sub-saharian migrant in Libyan detention centre
"Every Friday, they go out hunting the black man, they throw people in jail just like that, for nothing!," one migrant exclaimed.
"They are calling us animals, they are beating us!," another told Euronews.
"Look at his skin, he's been here 11 months," another migrant said, pointing to a skeletal man. "Look at the other, look at a man's life."
"We realised that we have become a business for them! They want to get rich on our backs!," said another.
These African voices are just a few among thousands which get lost inside the walls of Libya's migrant detention centres.
Five years after the country was plunged into instability after the fall of Muammar Gaddafi, Libya is a major crossroads of irregular immigration.
With 2,000 kilometers of maritime border, and four thousand kilometers of land borders, Libya is officially home to nearly 300,000 migrants.
Many are willing to attempt the perilous journey to Europe, 300 kilometres away.
The under-resourced coast guards do their best to respond, but can do little to avert tragedies.
"We were dying, we were all dead!," said a rescued migrant. "Everybody was dead! Thank you Libya! You saved our life!"
1,263 people have been rescued outside the Libyan coast in the past 2 weeks. In 2016, 18,557 people have been rescued. #Libyapic.twitter.com/TZ1fjjRC6M

—

IOM

Libya (@IOM_Libya) 2 décembre 2016
The team that works the area off the Tripoli coast has just six of these small boats, to cover a 120 km zone.
Boats not built for the high seas, or to travel long distances.
The head of the Tripoli coastguard told Euronews that the presence of European ships in the Mediterranean, has increased the number of crossings.
"Today, migrants, instead of having to cross 200 to 400 nautical miles, can easily have to cross a dozen miles. After passing the Libyan territorial waters, they directly find the boats from operation Sophia waiting for them, to take them to Europe's shores."
"They put a huge number of people on the boats, because they are betting on the short distance. The result is that as soon as they leave, and before they reach the 12 miles, the boats sink! And this is the main cause of the increase in the number of fatalities."
According to the United Nations, a record number of people have died in the Mediterranean this year:nearly 4,700
"This is what remains of one of the boats intercepted by the Libyan coast guards", says euronews reporter Valérie Gauriat, showing the debris of one of the migrant boats confiscated by the Libyan coast guards. "They are now specially made to transport migrants; and the business is prosperous. Since January more than 14-thousand migrants have been rescued at sea. This is over four times the number than in previous years."
We have an appointment at the department in charge of fighting illegal immigration, the DCIM (Department for Combating Illegal Immigration).
The unit pursuing people trafficking networks in Tripoli is not fully staffed.
"We have a lot of men who have gone to Sirte, they are fighting against ISIL," explained one officer. "At the moment, we don't really have any intervention force.
"Look, this is how traffickers work.
These people traveled 100 kilometers in this."
Migrant smugglers' business is booming
The migrant smuggling business has been booming since the fall of Gaddafi.
These people smugglers, who were arrested a few months ago,say the past year has been one of their best yet.
They tell us that, depending on the boat, each crossing nets them from sixteen to over 100 thousand euros.
"Operation Sophia made things easier for us," said one smuggler. "Before that, it could take 17, 20, 24 hours, to cross. Now it takes maximum four hours."
Like the coast guards, the DCIM teams are short of resources;
Workers have not been paid for three months.
The department's head of administration says everything suffers:
"The equipment, the computers, the cars, the uniforms, communication means, the walkie talkies .. for all that, we need some assistance."
The finger of blame points to the international community.
"The fact that the European Union, the IOM, Frontex, and the United Nations do not respect the agreements signed with the Libyan state, in terms of financial, logistical and technical aid, has increased the problem," insists the head of international relations at the DCIM.
"I want to emphasise that Libya does not want to remain for ever the policeman who works for free to arrest the migrants who go to Europe," he adds. "The hidden political aim at European level is to make Libya a grey zone, to regroup all illegal immigrants here, and make them Libyan citizens. It will not happen. For the Libyan people will never accept that."
The migrants arrested by the DCIM brigades are sent to one of the country's 22 detention centres.
We turn up unexpected at one of them in Tripoli. The manager is not here. A guard let us in.
Under the authority of the interior ministry, centres like this one are most often run by the militias, fighting for control of the country, in parallel with the official authorities.
More than a hundred men pile up in this shed, amid the pungent smell of stale urine.
"There are people who've been here for 10 months, some who have been here for 6 months, some for a year," Euronews is told.
"There are people who died," said one of the migrants at the centre. "People who are injured, there are people who have lost their lives!"
"In a day you eat this half or full of this, it's finished," said another, refering to a small portion of food. "Until the next day. No breakfast, no dinner, no nothing. We want to go home!"
Many here have been wounded by truncheons and sometimes, they say, by bullets.
Most of these men are sick. Insects are everywhere.
They tell us some people have died because of the unhygienic conditions and lack of care.
"Look at his skin, he's been here 11 months," another migrant said, pointing to a skeletal man. "Look at the other, look at a man's life."
We head to the women's quarters
At first sight, the conditions seem less gruesome. An impression that is short-lived.
"I am a pregnant woman.I have no medical care, we don't eat! We don't sleep well! They shoot at people, they shoot at any time!," said one of the group of migrants staying at the centre.
"She doesn't have milk to drink, she's eating white rice," said a mother with a baby. "She's four months old, she's been here for three months! There's nothing for her, there are no nappies."
A woman next to her exclaims: "Look at the rice that a baby eats. It's three-day old rice."
"No treatment! No medication!," shouted out another.
"The baby is sick, it's been three days now!"
Just like the men before them, all these women tell us they had no plans to travel to Europe, and want to go home to their countries.
They say they were captured in the street, or at their homes in Tripoli.
"You're just walking outside, they kidnap you! They say they catch us at sea it's a lie!," we were told. "They come up to you and they kidnap you! We've become a business for them now. We've realised we've become a business for them! They just want to make money off our back. Because of the international aid they get! We did not even get 5 percent of that aid. And we did not come to Libya to receive donations, we came here to improve our life conditions! If they don't want to see us on their territory, then they should help us to just get out of this country!"
Many of these women lost their babies due to lack of care.They say threats and beatings are frequent. And rapes are commonplace.
"For things like this, they ask us for money," said one of the women, refering to a tin of food.
When asked what happens if they have no money, she says: "When we have no money, they abuse us … They take us from behind! From behind.. I have a son, sometimes he wants to drink milk, he needs that. But when you have no money, you have to play by their rules. You just let them take you from behind, let them abuse you, abuse you! I don't hide my face out of shame. I hide my face because afterwards, they can hurt me."
"Don't abandon us here because we're tired," said one woman who became visibly upset. "Even the flesh is tired."
While ill-treatment is notorious in many centres, some do try to do as best they can.
Like at this one, also in Tripoli.
This time, we had pre-arranged our visit, and are greeted warmly.
The manager wants to show us the poor conditions. He appears distressed by the scarcity of means to support the needs of detainees.
For lack of money, he can no longer pay his suppliers. Food is lacking. He says humanitarian aid is limited.
"We are sorry for these ludicrous kits, but the NGOs are not doing their job, despite the financial aid they receive from certain countries," he said, showing us a small bag of supplies.
"That's what the NGOs are giving us. Every two, three months. They come to make their media propaganda. They film the distribution of some small bags like these, to a limited number of migrants."
Some 50 migrants are detained here; the manager says the centre cannot cater for any more.
The inmates tell us they are well treated by their guardians. But they too want to leave as soon as possible.
These women escaped a prostitution network.
They were arrested when they tried to take a boat to cross illegally to Europe.
"They are treating us very fine here," said one of the women. "But we are tired of staying in this place. Because they want us to go back to Nigeria, and we are ready to go back to Nigeria.
The IOM said that we should wait, we should wait. That is why we are waiting," explained one of the women. "Until now we have not seen any result that we are going. And december is coming to an end. We have to go home !"
According to the Libyan authorities, some 8,000 people have been sent back to their country since May 2015.
But for the majority of irregular migrants, return is impossible, to countries torn by conflict and poverty.
"The embassies of the African countries do not cooperate at all for a simple reason: first because they are not present in Libya. And secondly because they do not know what to do with them if they are sent back .
Because they see these people as a problem, so they are relieved once they leave home. Without thinking that it can be a burden for Libya. "
Those who are not in prison strive to survive in a city where danger is everywhere.
This roundabout is famous in Tripoli.
Every day, dozens of men try to sell their services to often unscrupulous employers.
"Every day, they shoot people like animals," said one of the migrants. "They're kidnapping people, making you pay thousands of dinars! It's unfair! Let the UN help us."
Everybody here shares the same dream: Europe.
"We are here, it's to be able to cross. To go to Italy. We come and sit here from the morning, to find odd jobs with the Arabs. In order to save money. But it's only if you're lucky. Because some people come here to kidnap us, to go and sell us to prisons. We have to pay 1000 dinars, sometimes we have to pay 2000 dinars to be released. And also once we have saved a little money, once we gained enough for the transport to cross the water, they will come on the water; they will catch us on the water, to lock us up again in prison; and we have to pay again to get out. You see. This is our life, the immigrants, here in Libya."
Live updates from our Insiders team