All friends for foreign minister Boris Johnson's first meeting with EU counterparts
Comments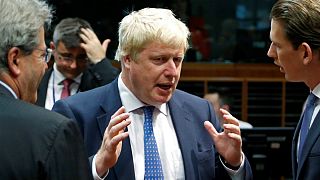 Boris Johnson, the new British foreign minister and leading campaigner for the UK to leave Europe, has been in Brussels for his first meeting with his EU counterparts.
We are not in any way going to be abandoning our leading role in European cooperation
Going in to the gathering he stressed that Britain will continue to be an active participant on the European stage, even after it quits the EU: "The message I will be taking to our friends in the [EU Foreign Affairs] Council is that we have to give effect to the will of the people and leave the European Union, but that in no sense means that we are leaving Europe, we are not in any way going to be abandoning our leading role in European cooperation and participation of all kinds."
.BorisJohnson</a> in Brussels: We are not going to be in any way abandoning our leading role in European participation <a href="https://t.co/v2W4LSx4xy">https://t.co/v2W4LSx4xy</a></p>&mdash; British Embassy (UKinUSA) July 18, 2016
In front of the reporters anyway, everyone involved was very diplomatic. There were no references to Johnson's pre-referendum comments that Brussels was trying to build a super-state, recreating the Roman Empire and comparing it to Adolf Hitler's plan to dominate Europe.
French Foreign Affairs Minister Jean-Marc Ayrault said: "I always speak with Boris Johnson with the greatest sincerity and utmost frankness. I think that's how we make progress. And as far as France is concerned, the goal is to make sure that there is no uncertainty regarding future relations between the UK and Europe, so the sooner the negotiations start, the better it will be."
During the run up to the referendum, Ayrault had accused Johnson of "lying a lot" to turn British public opinion against the EU.
But now everyone is stressing the benefits of working together.
After the meeting Johnson said he hoped Brussels would "leave the door open" for greater cooperation with Britain on security and defence as the European Union develops and moves forward.
Boris Johnson's first trip to Brussels as UK foreign secretary attracted morbid curiosity https://t.co/6Ipmqx2947pic.twitter.com/ou6ul4toe8

— Financial Times (@FT) July 18, 2016