Turkey demands more cash and faster visa-free travel for migrant help
Comments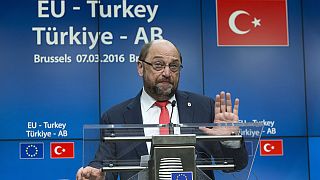 Turkey is offering to step up its help to tackle Europe's migrant crisis, but it wants more money and faster visa-free travel.
Ankara is reportedly demanding an extra three billion euros, doubling the amount already pledged by the EU.
Prime Minister Ahmet Davutoğlu has come up with new proposals to help stem the flow of migrants, as he meets leaders in Brussels.
"The summit itself shows how indispensable Turkey is for the EU and the EU for Turkey. We have many challenges in front of us, the only way to respond to this challenges is solidarity," Davutoğlu told reporters as he arrived for the emergency summit.
"I'm sure these challenges will be solved through our cooperation and Turkey is ready to work with the EU, Turkey is ready to be a member of the EU as well."
Davutoğlu has reportedly told EU leaders that, from a set date, Ankara is willing to take back migrants who have come from Turkey and are refused asylum in Europe.
The EU would then take in one Syrian refugee directly from Turkey for each one sent there from Greece's Aegean islands, according to a draft document.
"Someone in the hands of a trafficker who arrives on a Greek island, and who is transferred back to the other side of the shore, and they officially register there, could be eligible to be sent back to Europe under a relocation scheme," said Martin Schulz, European Parliament President.
"It's targeting the traffickers, it's not against the refugees."
Davutoğlu is understood to be demanding that Turkish nationals get visa-free travel from June, earlier than originally planned. Ankara also wants accelerated EU membership talks.
The half-day Brussels summit has been extended into the evening, so that Ankara's new proposals can be fully discussed.
Before the meeting, EU leaders told Davutoğlu of their concerns about human rights after the Turkish government seized control of a critical newspaper, the top-selling daily Zaman.
The seizure of #Zaman is yet another blow to #pressfreedom in #Turkey. I intend to raise this issue on Monday Ahmet_Davutoglu</a></p>&mdash; Martin Schulz (MartinSchulz) 5 March 2016