Greece-FYROM border: Situation 'dramatic' at refugee camp
Comments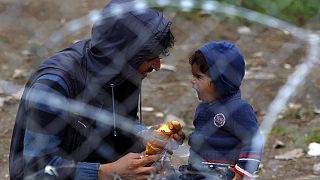 With around 30,000 migrants and refugees bottled up in Greece, euronews reporter Apostolos Staikos has been to see conditions at a camp in Idomeni, on the border with the Former Yugoslav Republic of Macedonia.
Migrants, hoping to head into northern Europe, have been left stranded due to the beefing up of frontier controls along their planned path.
"The situation is dramatic. This is not an organised camp. For instance, there are a few chemical toilets, but definitely not enough for all these people," explained Staikos.
"There is no warm water, no showers. Warm food is not enough and they have to wait for five hours to get a sandwich.
"They need more doctors, they need blankets, they need tents. If it rains, they can not protect themselves."
Staikos continued: "Volunteers are doing the best they can, but more people keep on coming to Idomeni. Among them, many babies and kids. I know It might sound strange, but there is a need for more toys. Because kids cry all the time, they miss home, they have nothing to do. People live in mud and they get sick. So you have to keep them busy, so toys would be something very useful here in Idomeni.
"You asked me about urgent needs. I would say they need an answer, they deserve an answer, they need hope. Are they waiting for something? Refugees ask journalists, and they asked me few minutes ago, 'what will happen, any news, will the borders open?' and thing is you, me, we cannot really say a thing, we cannot answer this simple question, which is so important for them."