Ceasefire and border controls fail to put an end to Syrian refugees arriving in Turkey
Comments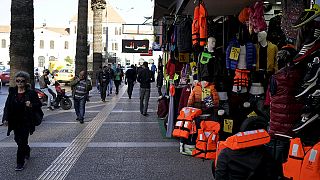 The ceasefire and strict border control by Turkey has not put an end to Syrian civilians fleeing their homeland.
A camp in Akçakale is one of the first stopovers for them. It is run by an NGO with the support of local government. Around 5,500 refugees live in tents.
Meryem Acami just escaped from the city of Raqqa held by ISIS. She fled with her four kids and arrived in the camp last week. Her husband who was a singer was killed. She was totally dependent on him.
"It took me four years to get away. I left from Dir El-Zour to Raqqa and then came to Turkey. I am a widow and do not have a son who can work. They let me go. They asked me where will you go and I replied that I wanted to leave for Turkey," she told euronews.
In Raqqa life was miserable. Her eldest son Ferid is only 12, he did small jobs to try and make a living to support the rest of his family. Now it is about survival.
"Now, my dearest wish is to make a living for my brother and sisters. It's the only thing I wish," he said.
They are not only ones who fled Syria last week. A group of young people also came from Dir El-Zour by Raqqa. They had little time to think about their escape. The wife of wone of the men – Muhammed is pregnant so they decided to leave in a rush.
"We had to choose between death and fleeing. We decided to leave by any means because we faced certain death. We arrived here from Dir El-Zour. We walked for seven days to get to the border. Everyone had to pay 60,000 Syrian pounds ( around 500 euros) to be allowed to pass through. Other people helped us to pay," he explained.
According to local sources there are around 110 thousand people waiting on the other side of Turkish-Syrian border gate of Oncupınar.
There they live in nine camps and have been supported by humanitarian aid groups in Turkey. Aid foundations cook food and bread everyday in their small centres on the Turkish side and distribute them daily in Syria.
"After bombings in Aleppo and Azez we set up this food production house in Kilis. In our kitchen we cook food daily for ten thousand people. We also have a project to establish a new camp in Syria. We continue our work there and we are planning to establish a tent city with a thousand tents,"Abdülhakim Bayram of the Beşir Foundation told euronews.
Our correspondent in Turkey Bora Bayraktar said: "The new arrivals from Syria keep coming despite strict border controls and precautions. The first thing on their minds is to escape from war and find a safe place. But the prolonged conflict in Syria and diminishing chances to go back increase the number of those who think about getting to Europe."