EU ministers fret over Chinese steel 'dumping'
Comments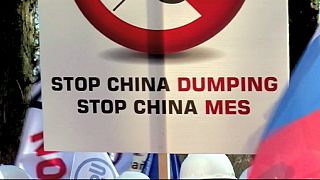 The EU needs to tighten up its anti-dumping rules to protect its steel industry from cheaper Chinese imports.
That's according to some EU trade ministers who met in Brussels on Monday.
Ministers from seven different countries wrote the European Commission earlier this month to warn of the dangers.
France was one of them; its government says another four have backed the call, including Spain.
"We can stay with anti -dumping duties which do not 16 % when we have some of our trading partners such as the United States, which without hesitation, sets up rates in some cases of 200 percent," said José Manuel Soria, the Spanish industry minister.
Europe's steel industry says classifying China as a market economy will make it hard to impose those duties. Bosses fear it could lead to the loss of 300,000 jobs..
it's clear that entering the 'market economy' without respecting entirely all of its rules leads to unfair competition and so to the outsourcing of hundreds of thousands of jobs," said Teresa Bellanova, the Italian under-secretary for economic development.
The European Commission could recommend that China receives market economy status by the end of the year.
But EU governments remain divided on whether to back that position.