'I want a fairer Europe,' British Labour leader Jeremy Corbyn tells euronews
Comments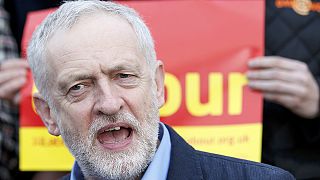 British Labour Party leader Jeremy Corbyn has told euronews that he wants to see a "fairer" and "more democratic" Europe, which the UK remains a part of.
I want to see a more democratic Europe, a more socially just Europe, a fairer Europe
He has been speaking in Brussels, as EU leaders meet for their final summit of the year – with Prime Minister David Cameron's demands for EU reforms high on the agenda. He has promised a referendum on EU membership before the end of 2017.
The Labour party has said that it will push for Britain to stay in the EU, regardless of the outcome of Cameron's negotiations.
Efi Koutsokosta, euronews: "Mr Corbyn, British membership of the European Union is currently under discussion before voters go to the polls. Why do you want your country to stay in the European Union, when you described it as 'undemocratic' in the past?"
Jeremy Corbyn, Labour Party Leader: "I want to see a more democratic Europe, a more socially just Europe, a fairer Europe, but I do not think that is achieved by leaving. Our party conference voted that we should remain in the European Union, but that we should campaign on the agenda of a more social Europe."
euronews: "(British Prime Minister) David Cameron also wants the UK to stay in the EU. He just wants a different relationship with it. What could be the impact for the country?"
Jeremy Corbyn: "I am not really sure what he wants to achieve. The background to this is not about the negotiations he is conducting here, it is about the arguments within the Conservative party, of large numbers of people who don't want to be in the EU, don't want anything to do with Europe at all.
"And his wing of the Conservative party that does not want to leave Europe, but that essentially wants a free market Europe, rather than a social justice Europe."
euronews: "You speak about a social Europe, but what is currently supported in Berlin, Paris and other European capitals, is a free market union. So what makes you believe that a UK led by Corbyn could convince these leaders to change direction?"
Jeremy Corbyn: "We believe that austerity is a political choice, not an economic choice. If the European Union wants to succeed it can't go on impoverishing the poorest people in the least well-off countries in Europe."
euronews: "Let's move on to the refugee crisis. What do you think of the European response to this problem?"
Jeremy Corbyn: "Human beings who are desperate, fleeing from wars and disasters, they should be shared out across Europe.
"I think that Germany should be congratulated on the number of refugees it has been prepared to take in.
"And my own country didn't join in the European Union programme, instead it set a figure of 20,000 to be taken over four years, taken directly from refugee camps in Lebanon and in Jordan.
euronews: "Do you think that your country should participate in the European Union quota system for the resettlement of refugees?"
Jeremy Corbyn: "Yes, I would and I made that point very clear in parliament on many occasions indeed. This is a crisis, facing ordinary people. Those ordinary people deserve support and the humanitarian sympathy of all of us."
euronews: "To conclude, what is your vision for Europe?"
Jeremy Corbyn: "We cannot just allow the lives of all of us to be dominated by free market economics. There has to be something different. That is about full employment, about social solidarity, about opportunities for young people, about decent, fair working conditions across the continent."