EU officials mull consequences of possible Greek default
Comments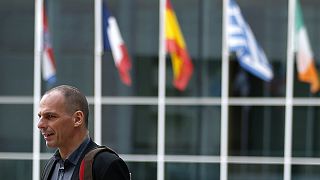 The finance ministers of the 19 countries who use the euro will meet in Brussels on Monday to debate what a Greek default would mean for Europe.
That is unless Greece comes up with some new proposals in the loans-for-reforms talks.
The country's international creditors want more reforms on pensions and VAT.
Athens has to pay 1.6 billion euros to the IMF on June 30th.
"There is some work to do between the institutions which we have asked to technically look at the credibility of a global plan, so that there can be a situation that is sustainable for all, for Greece but also for the other eurozone countries," said Michel Sapin, the French finance minister.
A summit of eurozone leaders follows the meeting of finance ministers; diplomats say Greece must make more offers of reforms on pensions and VAT.
"Now, we have to see again what happens in Greece until Monday, but i'm not very convinced to be able to tell you anything sensationally new on Monday," said Wolfgang Schauble, the German finance minister.
One investor told euronews markets believe Greece will miss its payment to the IMF and ultimately will default.
"We see for the moment that the market is starting from the principle that the 1.6 billion euro payment that has to be made to the IMF on June the 30th will not be made. A sum of 303 million euros should have been paid at the start of June, but it was delayed," said Alexandre De Groote, executive director at Petercam Institutional Bonds.
Greece needs to tap a final 7.2-billion-euro aid tranche to avoid a default becoming a reality.