EU calls crisis summit after Greece bailout talks fail
Comments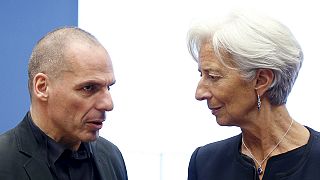 The meeting of European finance ministers in Luxembourg has ended with no solution to the Greek debt crisis.
Instead eurozone leaders are to meet for urgent talks in Brussels on Monday.
At a news conference following the meeting, IMF chief Christine Lagarde took a swipe at the Greek negotiating team:
"The key emergency in my view is to restore a dialogue with adults in the room," she said.
Greek finance minister Yanis Varoufakis said he came to the meeting with a new and innovative proposal the reassure creditors.
"We proposed that there should be an automated hard deficit brake that without consultation in parliament, will be activated when the projections of this fiscal council shows that there is a high probability that in the next few months, weeks period the Greek budget will go into primary deficit," he said.
Varoufakis added that Athens and its creditors are close to a deal on fiscal targets, the gap a mere 0.5 percent.
Reporting from Luxembourg, our correspondent Efi Koutsokosta said:
"The discussion on Greece lasted for just one hour and was very tense as none of the eurozone ministers wanted to comment on the proposals made by the Greek finance minister. Now, all eyes are on the eurozone summit of Monday while the prospect of capital controls in Greece are increasing all the time."