Tsipras courts Putin as pressure mounts on Greece
Comments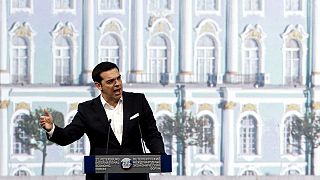 Under pressure Greek Prime Miniser Alexis Tsipras is in St Petersburg to take part Russia's annual business conference.
His visit, the second in two months, has set tongues wagging that Russia may offer Greece a loan in exchange for help in ending EU sanctions against Moscow:
Tsipras addressed the conference: "Let's be serious. The so-called Greek problem is not a Greek problem, but European. The name of the problem is not 'Greece' it is 'eurozone' and it concerns its structure."
Greek PM Tsipras Speaks At St. Petersburg Forum In Russia - Live Webcast http://t.co/Df1PnjSJDk

— zerohedge (@zerohedge) June 19, 2015
Earlier Tsipras met with members of the Greek diaspora in St Petersburg before laying a wreath at the statue of Ioannis Kapodistrias.
Kapodistrias is considered the founder of the modern Greek state and the first elected head of independent Greece.