Case of Saudi blogger sentenced to 1,000 lashes 'has nothing to do with politics', says his wife
Comments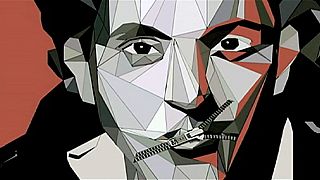 Ensaf Haidar, the wife of jailed Saudi blogger Raif Badawi, took her campaign to free her husbands to the EU's capital on Tuesday as she looked to win further European support for his release.
A court sentenced Badawi, 31, to 1,000 lashes for insulting Islam in May last year; judges also handed the activist a ten-year jail term and a huge fine of more than 180,000 euros.
One round of 50 lashes were carried out against the blogger in January and amateur footage later emerged of the punishment on the Internet.
Haidar has been campaigning for Badawi's release since he was sentenced. She fled to Canada in 2012 with their three children after his arrest.
Supported by Amnesty International, she is on a tour of Europe seeking EU backing for her fight.
She told euronews in Brussels that she last spoke to Raif last week.
"His voice was tired. He misses his family and he was distressed. He was physically and psychologically tired," said Haidar.
"With regards to the lashes, they stopped them for medical reasons. After having been subjected to them in January, they formed a medical committee of eight doctors, who wrote a report on his physical condition and said he could no longer be lashed."
She added, however, that she had no idea if and when the punishment would start once again.
Haidar and her supporters want Western countries to call on Saudi Arabia to release her husband. The kingdom is a strategic ally of the United States and Europe owing to its position as a oil producer.
"I guess those countries won't stop with their pressure and I hope that they don't stop because the story of Raif Badawi, it's a human story, not a political one," Haidar told euronews.
Ensaf hopes King Salman of Saudi Arabia will pardon Raif so he can join her in Canada.
Euronews left messages with the country's embassy in Belgium to request an interview with the Saudi ambassador.
Those calls seeking comment were never returned.
Discussing Badawi''s case, an EU spokesperson said: "The basis and the conditions as well as the nature of the punishment are matters of strong concerns for us."
"The sentence appears disproportionate and have made our position clear on several occasions".
"We continue with the calls on our Saudi partners to suspend the sentence and to consider the release of Mr. Badawi."