Germany's Merkel rebuffs talk of new Greek bailout
Comments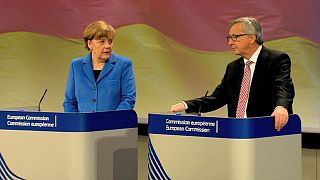 German Chancellor Angela Merkel and European Commission president Jean-Claude Juncker on Wednesday downplayed talk of a third Greek bailout.
Speaking in Brussels, the pair said Athens should continue to pursue the reform programme agreed with its EU partners.
"Now it's about the implementation of the agreed paper that has been agreed upon in the Euro-Group. The three institutions – the troika – will do the evaluation and I think we have a lot to do in order to move this forward," said Merkel at a joint press conference with the head of the EU executive.
Former Luxembourg prime minister Juncker added that it was "premature" to talk about another rescue package for Greece.
Their comments came after Spanish Finance Minister Luis de Guindos told a conference in Barcelona earlier on Monday that a third bailout was in the offing once the current four-month extension to the second 240-billion-euro deal expires.
"We have given ourselves these four months to one, see what the real situation is, to see how Greece has met conditions and to try and establish what happens next … which is fundamentally a third rescue," he said, adding the package would be in the region of 30 to 50 billion euros.
A spokeswoman for Eurogroup chief Jeroen Dijsselbloem denied any such plan was on the table.
"It's not something that is being discussed in the Eurogroup," the spokewoman said, referring to the informal body of eurozone finance ministers that shapes financial and fiscal policy in the single currency area.
Greece could face a cash crunch in the coming weeks as it will have to pay several billion euros in maturing debts; two billion is due to the International Monetary Fund later this month, whilst nearly seven billion euros of ECB bonds mature in July and August.
Athens must provide more details of its reform plans if it is to win the final 7.2-billion-euro tranche of its second bailout.