EU will hit Russia with tougher sanctions if Ukraine truce fails, Merkel says
Comments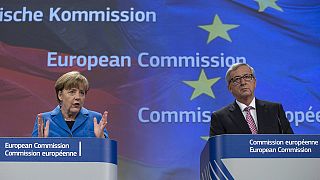 The EU is ready to Russia with tougher sanctions if a ceasefire deal brokered last month is seriously violated, German Chancellor Angela Merkel said on Wednesday.
"So far we've got a fragile ceasefire which needs to be stabilised," Merkel told journalists in Brussels at a joint press conference with European Commission president Jean-Claude Juncker.
"But if the Minsk agreement is seriously violated, European leaders and the (European) Commission stand ready to prepare and impose further sanctions," she added.
The Minsk agreement is a ceasefire deal brokered on February 12 by Germany's Merkel; French President Francois Hollande; Ukrainian President Petro Poroshenko, and Russian President Vladimir Putin.
EU member states have so far agreed a number of travel bans and asset freezes against senior Ukrainian and Russian officials linked to pro-Russian separatists in eastern Ukraine.
According to the United Nations, more than 800 people have been killed in that part of the country since mid-January. An estimated 6,000 people have lost their lives since fighting first broke out in the region last April.
Western powers accuse Moscow of backing separatists in two self-proclaimed rebel statelets in Donetsk and Luhansk with troops, weapons and money; it is a charge that Russia has repeatedly denied, insisting it is not a party to the conflict.
On Monday, US Secretary of State John Kerry met with his Russian counterpart, Sergei Lavrov, in Geneva. Kerry told reporters afterwards that Lavrov had promised that Russia would respect the ceasefire agreement.