Europe's response to Human Trafficking
Comments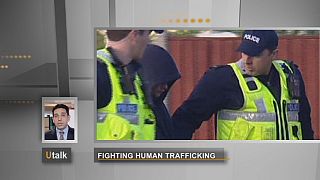 In this edition of U-talk our question comes from Martha in Paris: "What is the European Union doing in the fight against human trafficking?"
Michele Cercone, spokesman for European Commissioner for Home Affairs responds: "In 2010, the European Commissioner for Home Affairs, Cecilia Malmström, insisted the European Union provided a series of legislative and non-legislative measures to combat this phenomenon that can legitimately be described as a modern form of slavery.
"The European Union has therefore provided strict and extremely effective laws to permit punishment for the criminals behind this type of activity and at the same time to better protect victims, who are often vulnerable people, who have suffered shock, who need support, at the time of the trial in which they often help to convict their persecutors, or after the trial, in order to reintegrate into society and the workplace.
"Then the European Commission has chosen and appointed a European coordinator for the fight against human trafficking whose role is to coordinate at European level the institutions, the Member States and everyone who is involved in the fight against this phenomenon.
"More recently, the European Commission has developed a strategy built around 40 steps to try to stop, to slow down human trafficking. Among these measures I want to emphasize the creation of joint police units, with the support of Europol and Eurojust who are specialists in the fight against human trafficking, the creation of a platform for NGOs active in this sector in order to maximise their efforts and results, and creating a corporate structure that is responsible for the fight against human trafficking particularly regarding abuse and undeclared work and the use of victims of trafficking in the context of European economies."
If you would like to ask a question on U-talk, click on the participate button below.