Angela Merkel: the power-Frau enigma
Comments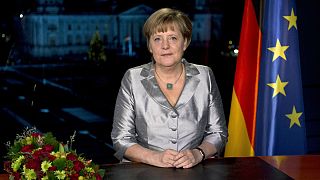 Some call her pragmatic, others Machiavelian.
Angela Merkel has managed to outmaneuver the princes in her own party and steer Europe towards a more rigorous and centralised European fiscal policy.
Does she do it with vision, shaping Europe's future by forcing the so-called PIIGS to reform despite violent protests?
Her critics say that, as reform lags among EU countries in crisis, she repeatedly climbs down to allow bailouts that ended up costing Europe even more than if she weren't so stubborn in the first place.
This as Europe's economy and the German engine behind it are slowing down, and as her push towards a federal Europe runs into tough resistance from countries jealously guarding their sovereignty. Are German taxpayers, outraged by fiery anti-German protests in Greece and by tabloid headlines fanning the flames, ready to unseat her and her coalition that has been losing a string of state elections?
Wired into this edition of The Network are:
- From Athens: Aristides Baltas, co-Founder the Syriza party, that opposes the austerity cuts imposed by the EU
- Here at the European Parliament in Brussels: Elmar Brok, German MEP and a member of Mrs Merkel's Christian Democrats
- And also from the European Parliament: Jan Techau, director of the think-tank Carnegie Europe.