Could Europe become a federation of regions?
Comments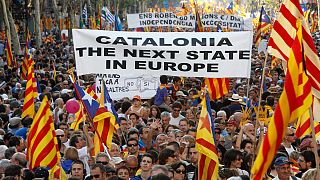 Scotland, Catalonia and Flanders are among a number of European regions with yearnings for autonomy, if not outright independence. The financial crisis has compounded the tensions with national governments, especially among regions that are net contributors to their national budgets and now want their tax money back.
Meanwhile Belgian ex-Prime Minister Guy Verhofstadt has co-authored a book with Daniel Cohn-Bendit urging an EU federalism that would weaken the nation state, critics say it is already happening.
As the crisis leads to increasing EU authority over budgets and banking, undermining national sovereignty, is it time for a real Europe of regions under a more powerful EU roof? Could this solve those separatist yearnings? Or could it lead to chaos as more regions demand increasing autonomy?
Wired into this edition of the Network is; from the European Parliament in Brussels, Christian Wenning, General Secretary of the Union of European Federalists, founded shortly after World War II, it believes in unity and diversity that could overcome Europe's divisions.
From Tenerife, Marc Guerrero i Tarragó, in charge of international relations for the nationalist party, Democratic Convergence of Catalonia. He is also Vice President of the Alliance of Liberals and Democrats for Europe (ALDE).
From London, Sony Kapoor, Managing Director of the economic think-tank Re-Define, who sees identity politics as a way to leverage a better deal with national governments but warns outright independence could spell economic and political disaster.