Consular protection for EU citizens
Comments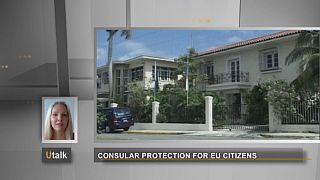 This week's question on U-talk comes from Andris, from Riga in Latvia: "I plan to go on holiday to Cuba with my children. As far as I know there is no Latvian embassy in the country. I would like to know who can help us if something goes wrong?"
The answer from Nina Koudelkova, the Communication Officer from Europe Direct, the EU's information service:
"As a Latvian citizen, you automatically hold the European citizenship and therefore EU rules on consular protection apply to you. According to these rules, any EU citizen in a non-EU country where his/her own national state has no representation is entitled to protection by the diplomatic or consular authorities of any other EU state.
"As your country is not represented in Cuba, you may contact there a diplomatic or consular mission of any other EU state where you will be treated as if you were a national of the EU country they represent.
"When you seek such help, you must show an ID document (passport or ID card) as proof of your nationality. If these documents have been stolen or lost, the embassy may accept any other proof.
"The protection offered by embassies/consulates of other EU States comprises: – assistance to victims of violent crime, assistance in cases of death, serious accident or illness, arrest or detention, need for an emergency travel document as well as the relief and repatriation of distressed Union citizens.
"Finally, we would suggest that you visit the European Commission website on consular protection for EU citizens where you will find useful information, including the contact details of EU countries consulates/embassies in countries outside the European Union.
For more information about the EU, call 00 800 6 7 8 9 10 11 or check out the website: europa.eu/youreurope
If you would also like to ask a question on U-talk, click on the button below.