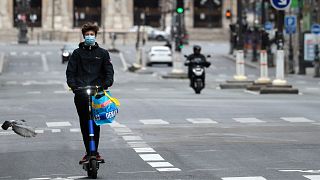 -
Copyright

Ludovic MARIN / AFP
On 2 April, Paris will decide whether the capital city's 15,000 for-hire electric scooters will survive.
The city hall has called for a referendum asking residents: "Do we or don't we continue with free-floating rental scooters?"
These for-hire scooters, which can be picked up using a mobile app and left anywhere, have become a divisive issue. Some residents say that they block pavements, are dangerous for pedestrians and generally clog up the streets.
Others believe they are an effective non-polluting alternative to public transport for getting around the French capital.  
Are electric scooters dangerous?
In 2022 alone, police reported more than 400 accidents with electric mobility devices where 459 people were injured. 
Research in the UK found that electric scooter riders were more likely to suffer serious injuries than cyclists. The study by Queen Mary University of London and St Mary's Hospital found that riders were less likely to wear helmets and more likely to be intoxicated.
In Paris, there have even been reports of people throwing the scooters into the River Seine when they are done with them.
Mayor Anne Hidalgo has said she is leaning towards the ban but will let the people of the city decide via the vote.
Why has the vote caused controversy?
E-scooter hire company Lime offered 10-minute free rides to users who register to vote in the referendum. Paris is one of the cities with the highest usage of the service and residents of the city have until 2 April to add themselves to the electoral register.
"Prove you're registered to vote and get a free 10-minute ride, on us," the email to Lime customers said.
Green Deputy Mayor in charge of transport and public spaces David Belliard said on Twitter that proposing to "buy voters is frankly not pretty".
He later clarified that the company had not broken the law because the vote was not subject to the same standards as municipal elections. But Belliard also told France Inter radio that it "reduces the debate to the level of consumers" adding that it was between scooter users and residents as well as the way the city is organised.
Lime says the operation is perfectly legal and its initiative was meant to encourage the maximum number of people to take part in the vote.
Why is a ban being considered?
Belliard also told the French press that the city had gone as far as it could in terms of regulations. There are already bans on riding on pavements, using mobile phones and wearing headphones. Speed limits are in place in some areas. People defying these rules face fines of up to €1,500.
But the city is still facing problems and has made the decision to hold a referendum before the licences for the main three operators - Lime, Dott and Tier - are renewed.
A ban could also encourage other European cities to also start thinking about getting rid of electric scooters.