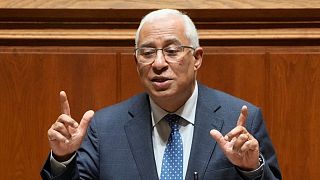 -
Copyright

AP Photo/Armando Franca
By Euronews Green with Reuters
Portugal has signed an agreement to swap Cape Verde's debt for environmental investments.
Such 'debt-for-nature' deals are emerging in other countries as a way to reduce the impact of climate change. They also touch on the dilemma of who should foot the bill for climate change mitigation.
Cape Verde owes around €140 million to the Portuguese state and over €400 million to its banks and other entities. 
Initially, €12 million of debt repayments scheduled until 2025 will be put into an environmental and climate fund established by Cape Verde, Portuguese Prime Minister Antonio Costa said on Monday.
Ultimately "the entire amount of debt repayments" will end up there, allowing Cape Verde to invest in energy transition and the fight against climate change.
What are 'debt-for-nature' swaps?
Debt-for-nature deals are financial transactions in which a portion of a developing country's foreign debt is forgiven in exchange for commitments to invest in environmental policies.  
The idea behind these swaps is to reduce the burden of debt on developing countries, which often have limited resources to devote to conservation efforts, while also promoting environmental protection.
Debt restructuring also seeks to address the issue of who should pay for climate change mitigation.
Those in the Global South have contributed least to climate change yet face its most severe consequences.
Cape Verde is already suffering the effects of climate change. The archipelago nation off West Africa's coast is subject to rising sea levels and significant biodiversity loss due to increasing ocean acidity.
Debt-for-nature swaps have already been used in a number of other countries, such as Barbados, Belize, Bolivia, Costa Rica, Ecuador, Panama, the Seychelles and Sri Lanka. 
How will the Cape Verde debt-for-nature swap work?
Cape Verde is establishing an environmental and climate fund. The former Portuguese colony will redirect its forgiven debt into this fund.
"This is a new seed that we sow in our future cooperation," Costa said during a state visit to Cape Verde in remarks broadcast by RTP television. "Climate change is a challenge that takes place on a global scale and no country will be [environmentally] sustainable if all countries are not sustainable."
He did not specify if debt to Portuguese companies was part of the deal, but expressed hope that companies "will also be involved in the various areas from energy efficiency, to the production of renewable energy" or storage of green hydrogen.
Cape Verde Prime Minister Ulisses Correia e Silva says his country needs to urgently enable mechanisms and financing instruments to support such solutions and deal with natural emergencies.
Debt-for-nature deals can help as they can produce the so-called green and blue bonds to finance conservation efforts on and land and at sea, which appeal to a rapidly growing number of investors seeking to meet net-zero carbon emissions and other environmental goals.