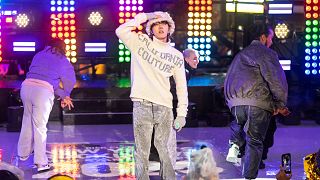 Singer J-Hope's star is on the up and up - and now he's bagged a partnership with leading fashion house Louis Vuitton.
The K-pop musician and member of hugely popular Korean boy band BTS has been announced as the luxury French brand's newest ambassador.
It's not the first time the artist has collaborated with Louis Vuitton; in 2021, he and his fellow band members were collectively named as brand ambassadors in a partnership that's since expired.
BTS are currently on hiatus and its members have been focusing on solo projects and securing individual deals with fashion houses. The break is mostly due to South Korean laws, which specify that all able-bodied men must complete military service for up to 21 months.
The seven-member group, which comprises RM, Jin, Suga, Jung Kook, Jimin, V and J-Hope, have had an established relationship with Louis Vuitton. At the 2022 Grammy Awards, they all wore custom Vuitton suits on the red carpet.
BTS' popularity is showing no signs of slowing down. Only this week, they came in at number two in IFPI's Global Recording Artist Chart. That marked their third consecutive year in the top three, following on from back-to-back wins in 2020 and 2021.
Following the partnership announcement, the house of Louis Vuitton called BTS "21st century pop icons," and said J-Hope "brings his unique charm and style to this exciting new chapter with the maison."
The ambassadorship is part of his seemingly unstoppable rise. It comes after the release of a new Disney+ documentary, "J-Hope in the Box", which goes behind the scenes of his debut solo album and his headlining performance at the Lollapalooza festival last summer.
Vuitton lauded J-Hope, saying, "He is beloved by fans across the world for his upbeat energy, precise choreography and creative musical direction. With a positive on-and-off-stage presence, J-Hope continues to push artistic boundaries and inspire international audiences."
J-Hope joins an impressive group of brand ambassadors at Louis Vuitton including actors Bradley Cooper and Tahar Rahim and musician Jackson Wang. His BTS bandmate Jimin recently signed with Dior, while Suga is a current brand ambassador for Valentino.