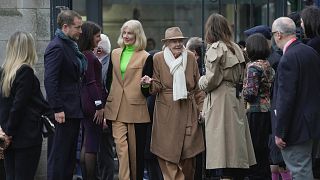 Victoria Beckham, Kate Moss and Christina Hendricks were among a whole host of famous faces who paid tribute to the late Dame Vivienne Westwood at a memorial service in London on Thursday (16 February).
Dame Vivienne was a world famous fashion designer, punk icon and environmental activist. She died in December last year at the age of 81, having established herself on the fashion scene in the 1970s. Westwood was well known for her irreverent take on clothing and was responsible for some of fashion's most famous designs, including Carrie Bradshaw's wedding dress in 2008's 'Sex and the City: The Movie'. She was made a dame at Buckingham Palace in 2006.
The memorial, which was held at London's Southwark Cathedral, saw guests style themselves in some of Dame Vivienne's most iconic designs, with tartan prints and bold, colourful tailoring featuring heavily.
The memorial service came the day before London Fashion Week is due to kick off, where designers will show off their collections for Autumn / Winter 2023/4. The event is being dedicated to Dame Vivienne, thanks to her decades long role as a mainstay of British fashion.
Here's what to expect…
Following its New York counterpart, London Fashion Week opens its doors on Friday (17 February). It will be the first full schedule LFW since the death of Queen Elizabeth II last September which saw a significantly scaled back event out of respect for the long-reigning monarch.
While the five day event will still take place for a significant chunk online - a hangover from the COVID-19 pandemic - shows will be presented across the capital at various venues, marking a departure from previous LFWs. In the past, iconic London locations including The Natural History Museum and Somerset House have played main host to the event, which was founded in 1983 by the British Fashion Council. The biannual event is now well established as one of the 'big four' fashion weeks, alongside Paris, New York and Milan's offerings.
In London, women's and men's collections will be shown - this is also the case in New York, but Paris and Milan have separate fashion weeks for those two gender's events.
While it's possible to livestream a number of shows, the in-person events are sadly invite-only and are usually attended by a mix of industry buyers, fashion press and celebrities and influencers. Thanks to social media, you won't have to miss out though - along with live-streaming, images and videos of the shows will be shared instantaneously online.
It's set to be an exciting few days, with Burberry in particular garnering a great deal of excitement. The British heritage brand will show its first collection under new chief creative officer Daniel Lee, who took over from Ricardo Tisci last year. Since starting at the 167-year-old fashion house, Lee - who left Italy's Bottega Veneta for the new venture - has already launched a new logo and branding so his first show is sure to set tongues wagging.
Italian luxury brand Moncler will be appearing at LFW for the first time, taking over London's large event space Olympia, putting on a show it's calling the 'Art of Genius 2023'. The spectacle, which will also be live-streamed, is part of 'Moncler Genius' and will feature collaboration with musicians Pharrell Williams and Alicia Keys as well as American designer Rick Owens. Somewhat bizarrely, the Moncler show will take place at the same time as Burberry's, creating a fashionista dilemma over which event to attend.
Well established designers, including JW Anderson, Erdem, Christopher Kane and Simone Rocha, will be showing collections alongside newer faces. People to look out for include Turkish-British rising star Dilara Findikoglu as well as Harri, who was shot into the spotlight very recently for designing singer Sam Smith's inflatable latex suit he wore to Saturday's Brit Awards. The quirky outfit was a huge talking point on social media and in the international press. Other newer names on the schedule include Noon by Noor, Sinead Gorey and Talia Byre.
LFW will also continue its cultural partnership with war-stricken Ukraine. Ahead of Liverpool hosting this year's Eurovision Song Contest on behalf of the country, Tuesday 21 February will see Ukrainian Fashion Week come to London. As part of the 'Support Ukrainian Fashion' initiative, which aims to show the resilience of fashion creatives in the face of war, three designers will show collections; they are Frolov, Kseniaschnaider and Paskal.
City Wide Celebration also returns this season, with a full programme of events open to the public alongside LFW's private shows and displays. It will offer up new collection previews, workshops and exclusive fashion week restaurant menus among other exciting features. These include Anya Hindmarch's 'World's Smallest Department Store' and a free immersive augmented reality exhibition, 'Redefining the Body', curated by British Vogue's editor Edward Enninful in collaboration with Snapchat.
London Fashion Week will be held from Friday 17 February until Tuesday 21 February and will be followed by Milan's offering which will run from February 21 - 27. Paris Fashion Week will round off the 'big four' events and takes place from February 27 to March 7.