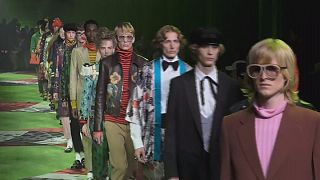 It's a nerdy and wacky world at Gucci's men's fashion show, which brought together mismatched laces, military details, nautical accents, floral suits and silk kimonos.
Gucci's creative director Alessandro Michele unveiled a collection evoking a journey, and there was definitely a sense here that anything can happen.
This season Michele even brought in our favorite cartoon character – Donald Duck, on a sweater vest and an embroidered jacket
Classic Armani
Giorgio Armani's identity is now very explicit – with a fingerprint motif on his latest Emporio Armani line.
The collection is sleek, modern, with a palette ranging from casual urban tones to electric blue and red, with reflective printed details throughout.
The fingerprint is woven into a Jacquard blazer, or more obvious on black and white T-shirts. Light scarves, sunglasses, berets complete this very wearable collection.
Political Westwood
Vivienne Westwood dedicated her Milan fashion show to the founder of WikiLeaks, walking the runway with a T-shirt proclaiming "I am Julian Assange."
The ever-political Westwood dressed her models with
IOU messages, likely referring to the debt we owe the planet.
And she stretched the concept of unisex fashion to the max, sending out men dressed in flowing suits but also in skirts, frocks and embroidered tops.
The collection had a 1960's rock'n'roll feel, with fringe on jackets and military embellishments, fishnet details, toga dresses and velvet jackets.