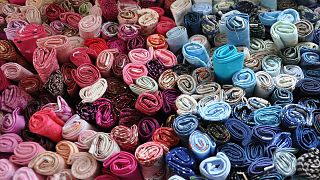 Nona Source has appointed four new young ambassador designers as part of its "Mindful Creatives" initiative to promote its model of reselling spare fabrics from the massive fashion brand LVMH.
Cecilie Bahnsen, Karoline Vitto, Nensi Dojaka, and Victor Weinsanto are the first ambassadors for Nona Source,the first company to take fabrics and leathers that major fashion houses aren't using to resell to creative designers.
By working alongside LVMH, Nona Source repurposes enormous amounts of material from the multinational company that incorporates Louis Vuitton, Moët & Chandon, and Hennessy and owns major fashion brands like Tiffany & Co., Christian Dior, Fendi, Givenchy and Marc Jacobs.
Nona Source has been working with LVMH since 2021, first online and then opening physical showrooms in Paris and London.
All four designers will get specialised support from LVMH and a financial endowment to buy fabrics from Nona Source to use in their projects.
Cecilie Bahnsen is a Danish designer who was the first Dane to be nominated for the LVMH Prize in 2017, who has had her work exhibited in Paris; Brazilian-born and London based Karoline Vitto has founded an eponymous brand that champions inclusivity and responsible resource use; Nensi Dojaka won the LVMH Prize in 2021 and created her own brand last year; and Victor Weinsanto from France opened the Fashion Week last September.
Nona Source is the first company to organise directly with a major fashion house to find a way to repurpose materials that may have gone to waste. But they're not the only exciting sustainable venture going on in the fashion world right now.
Staying in style sustainably
As the fashion industry is responsible for 4-10% of global greenhouse gases every year, finding ways to make the industry more sustainable is an absolute necessity.
One of the best ways for individuals to live more sustainably while still getting their fix of new clothes is to shop secondhand and vintage.
But if you just have to have new items, then there are better brands to go for. Over on Euronews Green, we spoke to Lucy & Yak co-founder Lucy Greenwood on the ways she's made her clothes brand sustainable.
Greenwood and her partner Chris started the fashion brand famous for its dungarees after a backpacking trip where they started making tobacco pouches out of old t-shirts.
They now run a company that pays its tailors four times the state wage in India while working in clean, air conditioned factories running on solar power. Greenwood even argues against using the word sustainable around their fabrics without qualifications. 
"Yes we've got some sustainable fabrics, but anyone who is producing anything new isn't fully sustainable. I hate using words if we're not 100% that thing," she says.
Originally proposed last year, the New York Fashion Act has been recently tweaked to require even more stringent requirements for companies' chemical use and climate targets.
Currently, the proposed legislation would have companies with revenue of over $100 million disclose at least 50% of their supply chains and the climate impact of their methods. In addition, they will have to disclose their median worker wages. Brands not in compliance with regulations will have fines levied against them.