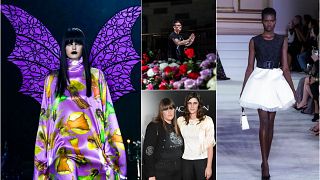 New York Fashion Week this year has been vivid and vivacious with several stunning designs and awe-inspiring creations. 
World-famous designer Christian Siriano lined his runway with thousands of multicoloured flowers and put wide-brimmed hats worthy of Audrey Hepburn on some of his models to top off a big week.
First, there was the custom burgundy power suit he made Vice President Kamala Harris for last week's State of the Union. The 37-year-old designer apparently nailed it in a single trip to Washington, D.C. with only one fitting.
"We had the Grammys and fashion week," Siriano told The Associated Press in a backstage interview. "We had no time and I was like, well, we hope it works. It's just such an honour. We wanted to make her look really beautiful and powerful."
Then, there was his update of Alicia Silverstone's iconic "Clueless" yellow plaid skirt set for her Rakuten Super Bowl commercial airing Sunday. He even scored a cameo as a student in Cher Horowitz's debate class.
Siriano and Silverstone are long-time pals and she sits often on his front rows. She was away filming this time around. But actress Lindsay Lohan, with her brother Dakota and one of her sisters walking in the show, attended with Quinta Brunson and Julia Stiles.
Rodarte goes goth glam
Rodarte brought dark, gothic glamour and opulence to the Big Apple with a shimmering show that transported the audience to a majestic Celtic fairytale land with a dark twist.
The grandiose show held at the Williamsburg Savings Bank featured dining tables decorated with silver candelabras and brimming with food and fruits covered in silver sparkles, lending a feel of performance art to the fall/winter collection display.
Black Swan effect
Rodarte sister-duo designers Kate and Laura Mulleavy, who worked on the tutus for 2010's 'Black Swan' seemingly pulled inspiration from the film again. Rodarte's line illustrated that the "balletcore" style trend may be headed down a darker path this year.
Models wore heavy, winged black eyeliner and black lipstick, matching their black gowns with long and pointy sleeves that draped to the floor for a dark fairy look.
In signature Rodarte fashion, buttery satin, ruffles, ribbons and lace were heavily present throughout some of the most visually pleasing gowns with simple silhouettes and puffy, broad shoulders and structuring. Some models wore capes and held grand bouquets of tulips.