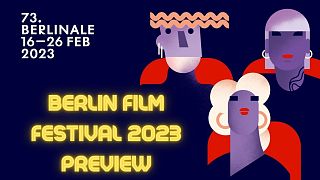 -
Copyright

Berlinale - Canva
The 73rd International Berlin Film Festival opens its doors this week, and lasts from Thursday 16 – Sunday 26.
It's Europe's first major cinema showcase of the year, and the largest film festival in the world in terms of quantity of films.
Put simply, if Cannes trades on the glamour of the red carpet and Venice is widely acknowledged at the launchpad for major awards hopefuls, the Berlinale is the cinephile's festival par excellence, with a fascinating variety of films on show.
After last year's underwhelming Competition titles, this year's selection promises much, and Jury President Kristen Stewart and her jury will have their hands full with an eclectic and enticing line-up.
Here are some of the titles we're looking forward to.
Past Lives
This is the one we can't wait for… Playwright-turned-director Celine Song makes her debut with this A24 drama which already wowed audiences in Sundance last month. Past Lives is a tale of two childhood friends who reconnect later in life, having been separated when one of their families emigrated from South Korea. Hae Sung (Teo Yoo) and Nora (Greta Lee) reconnect over social media and then in New York, where they confront notions of love, time and fate. This sounds like the resonant romantic journey that asks what the limits of love are and how it can shape our lives. Already, Past Lives feels like the Berlinale Competition title to beat… as well as the one that punishes our tear ducts and makes us pretend like we haven't been sobbing through a large part of the runtime while wrestling with a lovely case of existential dizziness. 
Disco Boy
Giacomo Abbruzzese writes and directs this French / Italian / Belgian / Polish co-production, his debut feature about the intertwining stories of a Belarusian man, Aleksei (Franz Rogowski), who is on the run and joins the French Foerign Legion in exchange for French citizenship, and activist Jomo (newcomer Morr Ndiaye) trying to save his village in the Niger Delta from oil companies. Abbruzzese picked up a César nomination for his 2020 documentary America, and the soldier / guerilla fighter dichotomy of Disco Boy, as well as potential themes regarding senseless wars and crossing borders promises to strike a topical chord. Add a score by electronic musician Vitalic and you've got our attention.
Manodrome
Jesse Eisenberg, Odessa Young and Adrien Brody star in South African director Trengove's English-language debut, following his fantastic Xhosa-language film The Wound, which was shown at the Berlinale in 2017 and shortlisted for the International Feature Oscar. Manodrome sees a young man questioning his relationship and career choices decide to join a masculinity cult. The subject of the film is topical, considering the dangerous and misogynistic role models that continue to stir up online communities. Plus, considering the way in which Trengove delved into male rites of passage in The Wound, there's every chance Manodrome will explore male fragility and have something to say about the figures "incels" choose to celebrate.
Roter Himmel (Afire)
Berlinale regular Christian Petzold (Barbara, Transit, Undine) returns to the festival with Afire, which reunites him with Paula Beer, who won the best actress Silver Bear for Undine. His new film follows a group of friends taking a break in a holiday house by the Baltic sea as emotions ignite. Billed the second part of Petzold's trilogy begun in 2020 with Undine, Afire 's press notes state that it is a film "about not being able to sleep and wanting to love; about writing and being read; about being in the world and yet possibly allowing life to slip by." Quite the program… But considering how well his previous films have been received in Berlin Competition, there's every chance this one could be the talk of this year's selection.
Ingeborg Bachmann - Journey Into The Desert
Another eagerly-anticipated entry in the Competition line-up is Margarethe von Trotta's Ingeborg Bachmann – Journey Into The Desert, her first film to play in Berlinale Competition since Heller Wahn in 1983. A leading figure of New German Cinema, her films include Rosa Luxemburg (1986) and Hannah Arendt (2012). With Ingeborg Bachmann - Journey Into The Desert, von Trotta teams up with the ever-wonderful Vicky Krieps (Phantom Thread, Corsage) to tell the story of the titular Austrian poet who becomes embroiled in a stormy affair with Swiss playwright Max Frisch (Ronald Zehrfeld). Sign us up.
Suzume
Following his international hit Your Name, writer-director Makoto Shinkai returns with an animated feature about the titular 17-year-old girl, who travels around Japan closing mysterious doors / Pandoras boxes to prevent disasters. The visuals look gorgeous and it's rare that anime films make it into the Competition selection, making Suzume something to celebrate. And considering 2002's Spirited Away won the Golden Bear, there's every chance this could stand out in the line-up and potentially nab a bear or two. It has already been released in Japan last year, where it stood as the third biggest box office title in the country. Time for Europe to catch up with Suzume…
Sidebar standouts and Special screenings
The Berlinale's sprawling program can be tough to get through. Labyrinthine even.
Only this year, there are 287 selected films across the festival's various sections. But diving into these sidebar selections is always a rewarding experience and yields gems.
Whether it's Panorama and their edgy and often provocative curation, Forum's platform for avant-garde filmmaking, the wonderful Generation section tailored to younger audiences, the unfairly overlooked Shorts section – which showcases some of the best short films out there – or Encounters, the section for filmmakers that push genre boundaries, there's genuinely something for everyone. 
And we haven't mentioned Series, Retrospective (which are focused on coming-of-age films this year) or Special screenings.
Here are just a few titles that have sparked our interest…
El Eco
One of the greatest films to come out of the Berlinale in the last decade is Tatiana Huezo's 2016 sophomore full-length film, Tempestad. Shortlisted as Mexico's Oscar entry, Huezo masterfully alternated two narratives in a textured film that examined the consequences of organised crime in Mexico and what mothers will sacrifice in order to protect the ones they love. It was, without hint of hyperbole, a spellbinding masterpiece. Huezo now returns to the festival with El Eco, and we couldn't be more excited. According to the press notes, the film is set in a remote village in northern Mexico, where life consists of the most elementary things: "Being a child here is an intense experience from day one, involving nature, animals and people. But also love, intimacy, illness and death. And education – at least for the younger generation." This film apparently zones in on the care-working matriarchy in a country notorious for its innumerable kidnappings of women and girls. Considering the dirge-like poetic power of her previous films, expect an immersive ride that shouldn't be missed.
Hello Dankness
Another title we can't wait to see is Soda Jerk's Hello Dankness. Behind the name Soda Jerk are Dan and Dominique Angeloro, the Australian directing duo behind the brilliant Terror Nullius (2018). Their new film assembles scenes from various films and puts them in new context, echoing some of the editing experimentation achieved by Guy Maddin, Evan Johnson and Galen Johnson in 2018 with the masterful Green Fog – which also screened in Berlin. Soda Jerk create a new narrative about the profound changes in US society since Trump's presidency: images are given new contexts and the exploration of the way we consume images, often without the appropriate background, is inherently fascinating. The 2016 US elections, the pandemic, fake news, deepfakes and the #MeToo debate are integrated into scenes from films such as Wayne's World and A Nightmare on Elm Street, and this playful pop culture hodgepodge could have plenty to say about the politics of images and how reinterpretation can lead to some very dark places.
Iron Butterflies
Ukrainian director Roman Liubyi presents the truth of what happened to Malaysia Airlines Flight 17 from Amsterdam to Kuala Lumpur, which was shot down by Russian forces on 17 July 2014. All 298 people on board were killed. Liubyi's documentary explores the reality of this attack, the evidence - including physical artifacts like the butterfly-shaped shrapnel found in the bodies of the pilots - and how this act of mass murder contained the seeds of the future we now live in. We interviewed the director of this hard-hitting doc and it is unmissable.
Golda
Israeli filmmaker Guy Nattiv, whose last film Skin (2018) was screened at the Berlinale, returns with an ambitious project: the reconstruction of the Yom Kippur War in October 1973 told from the perspective of Golda Meir, Israel's fourth prime minister and the first woman to hold the post. An unrecognizable Helen Mirren brings the chainsmoking Meir to life, who was previously portrayed on screen and stage by Ingrid Bergman and Anne Bancroft. Expect dramatic geopolitical machinations and a performance that should get awards pundits scribbling Mirren's name down next to all 'Best Actress' choices.
Passages
The new film from Ira Sachs (Keep the Lights On, Love Is Strange) sees Franz Rogowski (yes, him again – he's everywhere) and Ben Whishaw married to each other. Need more to get excited? Well, here's the twist: Rogowski's character begins an affair with a younger woman played by Adèle Exarchopoulos. This leads to Whishaw's character to start an extramarital affair of his own. It sounds like exactly the kind of complicated and character-driven fare we've come to expect (and love) from Ira Sachs.
Infinity Pool
We already flagged up Brandon Cronenberg's eagerly anticipated follow-up to the excellent 2020 bodyhorror thriller Possessor in our Most Anticipated Films of 2023, as well as in our Sundance preview. Infinity Pool is a sci-fi thriller which follows a wealthy couple on vacation at an island resort. A fatal accident, which will expose a dark subculture of hedonistic tourism, leaves them facing a zero-tolerance policy for crime: either be executed or, if you're rich enough, create a double of yourself whose death you can watch. Starring Alexander Skarsgård, Cleopatra Coleman and the ever-wonderful Mia Goth, this looks like a disturbing and trippy ride, and will be one of the Berlinale's hottest tickets.
Femme
This is one world premiere we're giddy about. Femme follows Jules (Misfits and Candyman 's Nathan Stewart-Jarrett), one of London's celebrated drag artists. One night after a show, he is brutally attacked. Although Jules is able to recover physically, he withdraws from the outside world. Months later, he recognises his attacker (played by 1917 's George MacKay) by chance in a gay sauna. He approaches the other man incognito and begins an affair with the closeted homosexual in order to exact revenge. Tell us you're not intrigued? Directors Sam H. Freeman and Ng Choon Ping seem to have crafted a revenge drama should hopefully wrestle with internalised homophobia and anti-trans sentiment in a potent and thrilling way. 
Curation as resistance
The Berlinale has never been shy went it comes to politics and shedding a light on current affairs.
Not only is it a major platform for up-and-coming creatives and daring works of art, it's a festival unafraid to put its curation where its mouth is.
The Panorama selection this year will highlight films as "Tools of Resistance" and section head Michael Stütz has stated that "content and form are the means used to convey their cinematic responses to complex current events and individual upheavals."
"The camera serves as a tool, inspiration as a weapon. Images are created that fill gaps and act as important (oppositional) stances in societies."
Festival co-head Carlo Chatrian has said the festival would spotlight several documentaries and feature films from Ukrainian directors, in addition to works from dissident Iranian filmmakers, in a sign of "solidarity".
One such film – a major get for the festival this year – is the Berlinale Special title Superpower, by Sean Penn and Aaron Kaufman.
Billed as "the chronicle of a film project that reality forced to change into something less controllable but more meaningful", the documentary is about Penn's travels to Ukraine, his bid to profile president Volodymr Zelenskyy, and how the two-time Oscar winner found himself in Kyiv when the ongoing war with Russia began.
A Berlinale press release also stated that "film festivals are places that strengthen freedom of speech, freedom of expression, and peaceful dialogue."
"With the ongoing war of aggression against Ukraine, and the courageous protests in Iran, as well as in many other regions of the world, the Berlinale stands in 2023 even more firmly for these democratic values, and remembers victims of war, destruction and oppression all over the world."
"Like numerous cultural institutions worldwide, the Berlinale has expressed its solidarity with Ukraine and Iran. Solidarity is expressed within the 2023 Berlinale in the sections and initiatives in the film selection and with various events - in part with cooperation partners."
The Berlinale will provide free exhibition space to Ukrainian film industry representatives at the festival's sprawling European Film Market, and highlight co-production possibilities with Ukraine's embattled directors.
The Berlinale also revealed that the colours of this year's Berlinale would be blue and yellow - Ukraine flag colours.
For more events we're looking forward to, including the Tár special evening, the Steven Spielberg homage, and other topics including the Berlinale's stance on gender and representation, click on the video above for more information.
The 73rd Berlin International Film Festival will take place from 16-26 February.Stay tuned for our full coverage of the 2023 Berlinale during the festival, including reviews, gossip and everything you need to know about this year's edition.