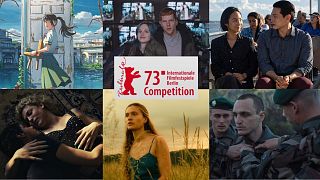 -
Copyright

Berlin Film Festival
The International Berlin Film Festival, Europe's first major cinema showcase of the year, has announced its Competition line-up for the 73rd Berlinale.
Festival heads Carlo Chatrian and Mariette Rissenbeek unveiled this year's 18 official Competition titles vying for the coveted Golden Bear, a selection which includes new films from Christian Petzold, Margarethe Von Trotte, Emily Atef and John Trengove.
Six of the films are directed by women, three are debut features and 11 filmmakers have had their works selected by the Berlinale previously (eight in Competition). Once again, the 50/50 split between male and female directors in the Competition line-up has not come to fruition, but the Berlinale remains head and shoulders above its European A-list festival counterparts Cannes and Venice in this respect.
Chatrian and Rissenbeek also revealed the films for the Encounters sidebar competitive section, which feature tantalizing entries from Tatiana Huezo, Dustin Guy Defa, Bas Devos and Wu Lang, as well as the new film by the prolific Berlinale mainstay Hong Sangsoo.
Among the Competition titles are the Sundance-premiering Past Lives by Celine Strong, Makoto Shinkai's animation Suzume, and the thriller Manodrome about a masculinity cult from South African director John Trengove, whose previous film The Wound opened Berlin's Panorama strand in 2017. 
There's also the much-anticipated Ingeborg Bachmann – Journey into the Desert, Margarethe Von Trotte's film starring Vicky Krieps as Austrian poet and author Bachmann. It is the first film by the acclaimed German filmmaker to play in the Berlinale Competition since Heller Wahn in 1983.
French-Iranian director Emily Atef returns to the Berlinale with teenage love story Someday We'll Tell Each Other Everything, Berlinale regular Christian Petzold also heads back to competition with Afire - following his German hits Undine and Barbara - and veteran French filmmaker Philippe Garrel, who was last in Competition in 2020 with The Salt of Tears, will premiere his family drama The Plough.
As previously announced, the festival will open with the world premiere of Rebecca Miller's romantic comedy She Came To Me starring Peter Dinklage and Anne Hathaway.
Kristen Stewart will preside over the jury and Steven Spielberg will receive an honorary Golden Bear for lifetime achievement, with his autobiographical film The Fabelmans closing the festival. (Stay tuned to Euronews Culture for a full review of the film this Friday.)
Scroll down for the full Competition and Encounters line-ups.
Solidarity with Ukraine and Iran
An additional Berlinale Special title was also announced: Superpower, by Sean Penn and Aaron Kaufman.
Billed as "the chronicle of a film project that reality forced to change into something less controllable but more meaningful", the documentary is about Penn's travels to Ukraine, his bid to profile president Volodymr Zelenskyy, and how the two-time Oscar winner found himself in Kyiv when the ongoing war with Russia began.
Chatrian said the festival, known for its strong political emphasis, would spotlight several documentaries and feature films from Ukrainian directors, in addition to works from dissident Iranian filmmakers, in a sign of "solidarity".
A Berlinale press release stated that "film festivals are places that strengthen freedom of speech, freedom of expression, and peaceful dialogue."
"With the ongoing war of aggression against Ukraine, and the courageous protests in Iran, as well as in many other regions of the world, the Berlinale stands in 2023 even more firmly for these democratic values, and remembers victims of war, destruction and oppression all over the world."
"Like numerous cultural institutions worldwide, the Berlinale has expressed its solidarity with Ukraine and Iran. Solidarity is expressed within the 2023 Berlinale in the sections and initiatives in the film selection and with various events - in part with cooperation partners."
The Berlinale will provide free exhibition space to Ukrainian film industry representatives at the festival's sprawling European Film Market, and highlight co-production possibilities with Ukraine's embattled directors.
Rissenbeck and Chatrian revealed that the colours of this year's Berlinale would be blue and yellow - the Ukraine flag colours.
The Berlinale Special titles also include the German premiere of Todd Field's Tár, Robert Schwentke's John Malkovich-starring Seneca - On the Creation of Earthquakes, Brandon Cronenberg's Sundance-premiering Infinity Pool, and Guy Nattiv's Golda, with Helen Mirren starring as Golda Meir, the Prime Minister of Israel during the Yom Kippur War.
Additionally, the Panorama selection this year will highlight films as "Tools of Resistance."
"Content and form are the means used to convey their cinematic responses to complex current events and individual upheavals. The camera serves as a tool, inspiration as a weapon. Images are created that fill gaps and act as important (oppositional) stances in societies," said section head Michael Stütz.
The 37th Teddy Awards, the world's longest-running and most important queer film award, will award the Special Teddy for outstanding merits and achievements in queer cinema to the Sunny Bunny Award, the queer film prize of the Molodist Film Festival in Kyiv. The Ukrainian sister award to the Teddy was established in 2001 and is the largest and most important LGBTQI+ cultural event in Ukraine.
Here is the full line-up announcement of the Competition and Encounters sections:
COMPETITION
20,000 Species of Bees by Estibaliz Urresola Solaguren (Spain)
The Shadowless Tower by Zhang Lu (China)
Till the End of the Night by Christoph Hochhausler (Germany)
BlackBerry by Matt Johnson (Canada)
Disco Boy by Giacomo Abbruzzese (France / Italy / Poland / Belgium)
The Plough by Philippe Garrel (France / Switzerland)
Ingeborg Bachmann – Journey into the Desert by Margarethe von Trotta (Germany / Switzerland / Austria / Luxembourg)
Someday We'll Tell Each Other Everything by Emily Atef (Germany)
Limbo by Ivan Sen (Australia)
Bad Living by Joao Canijo (Portugal / France)
Manodrome by John Trengove (UK / US)
Music by Angela Schanelec (Germany / France / Serbia)
Past Lives by Celine Song (US)
Afire by Christian Petzold (Germany)
On the Adamant by Nicolas Philibert (France / Japan)
The Survival of Kindness by Rolf de Heer (Australia)
Suzume by Makoto Shinkai (Japan)
Totem by Lila Ayles (Mexico / Denmark / France)
BERLINALE SPECIAL GALA
Superpower by Sean Penn, Aaron Kaufman (US)
ENCOUNTERS
The Klezmer Project by Leandro Koch, Paloma Schahmann (Argentina / Austria)
The Adults by Dustin Guy Defa (US)
The Echo by Tatiana Huezo (Mexico / Germany)
Here by Bas Devos (Belgium)
In the Blind Spot by Ayse Polat (Germany)
The Cage is Looking for a Bird by Malika Musaeva (France / Russia)
My Worst Enemy by Mehran Tamadon (France / Switzerland)
White Plastic Sky by Tibor Banoczki, Sarolta Szabo (Hungary / Slovakia)
In Water by Hong Sangsoo (South Korea)
Family Time by Tia Kuovo (Finland / Sweden)
The Walls of Bergamo by Stefano Savona (Italy)
Orlando, My Political Biography by Paul B. Preciado (France)
Samsara by Lois Patino (Spain)
Eastern Front by Vitaly Mansky, Yevhen Titarenko (Latvia / Czechia / Ukraine / US)
Living Bad by Joao Canijo (Portugal / France)
Absence by Wu Lang (China)
The 73rd Berlin International Film Festival will take place from 16-26 February. Stay tuned for our full preview of the 2023 Berlinale in the coming days, including the breakdown of which titles are this year's hot tickets and potential future winners.