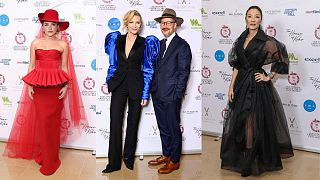 The 43rd annual London Critics' Circle Film Awards named Todd Field'sTár as the Best Film of 2022. 
Beyond the ceremony's top prize, the film also nabbed Best Director for Todd Field and Best Actress for Cate Blanchett.
It's no exaggeration to say that if there's one film you absolutely need to see in this first half of 2023 (or at least before the Oscars in March), it's Tár.
Both a #MeToo story told from the perspective of a perpetrator and an anti-cancel culture tale about a privileged person undone by their emotional viciousness, this nuanced fall-from-grace film manages to subtly say more about privilege, power, gender and cancel culture than any impassioned speech or opinion piece you're likely to hear and read this year.
As for Blanchett, Tár is without a doubt her career-best performance, which is saying plenty considering she is incapable of delivering a bad turn. She's already won the Volpi Cup at last year's Venice Film Festival for her performance and recently bagged the Golden Globe. If there's any justice in the world, it'll also land her the third Oscar of her career.
This edition of the LFCC was also a big night for Irish talent.
Other awards favourite The Banshees of Inisherin won Actor of the Year (Colin Farrell), Supporting Actress of the Year (Kerry Condon), Supporting Actor of the Year (Barry Keoghan), Screenwriter of the Year (Martin McDonagh) and British/Irish Film of the Year.
McDonagh's brilliant black comedy is a funny and profound examination of a disintegrating friendship set against the backdrop of the Irish Civil War. It's a break-up folktale that features all of the director-writer's acerbic wit, pitch-perfect dialogue and acute observations when it comes to the knotty realities of relationships.
Father-daughter drama Aftersun, starring Paul Mescal and 11-year-old Frankie Corio, won two awards: Breakthrough British/Irish film-maker for its writer/director Charlotte Wells and Young British/Irish performer for Corio.
Irish language film An Cailín Ciúin (The Quiet Girl) was joint winner of Foreign-Language film of the Year with Park Chan-wook's Korean drama Decision to Leave.
The Critics Circle's Dilys Powell award for excellence in film went to Michelle Yeoh, star of Crouching Tiger Hidden Dragon and the Oscar-nominated Everything Everywhere All At Once.
Here is the full list of awards:
Film of the year: Tár
Foreign-language film of the year: (tie) Decision to Leave/The Quiet Girl
Documentary of the year: All the Beauty and the Bloodshed
British/Irish film of the year: The Banshees of Inisherin
Director of the year: Todd Field, Tár
Screenwriter of the year: Martin McDonagh, The Banshees of Inisherin
Actress of the year: Cate Blanchett, Tár
Actor of the year: Colin Farrell, The Banshees of Inisherin
Supporting actress of the year: Kerry Condon, The Banshees of Inisherin
Supporting actor of the year: Barry Keoghan, The Banshees of Inisherin
British/Irish actress of the year for body of work: Florence Pugh, Don't Worry Darling, Puss in Boots: The Last Wish, The Wonder
British/Irish actor of the year for body of work: Bill Nighy, Living
Breakthrough British/Irish film-maker: Charlotte Wells, Aftersun
Young British/Irish performer: Frankie Corio, Aftersun
British/Irish short film of the year: A Fox in the Night
Technical achievement award: Guillermo Del Toro's Pinocchio (animation)
Dilys Powell award for excellence in film: Michelle Yeoh