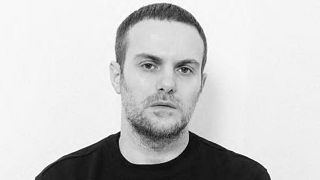 One of the top jobs in fashion has just been filled. 
Italian designer Sabato De Sarno is now the new creative director of Gucci. The 39-year-old has worked in some of the biggest names, having spent time at Prada, Dolce & Gabbana and Valentino.
So what can we expect for the future fashion of Gucci? 
De Sarno will unveil his first Gucci collection next September at Milan Fashion Week. Before that though, there are clues as to the direction he will take from his career. He may not be the most well-known name, but he's got the career chops for the job. Most recently, he spent the last 13 years at Valentino where he built a reputation working on men's and women's collections.
At Valentino, De Sarno was behind the company's bold shift towards a brand new shade of pink for the summer season last year. 
"Pink is the colour of love, community, energy and freedom," the brand touted as it debuted bright fuchsia pieces on a Paris runway.
A native Italian, De Sarno will keep Gucci's roots in Italian fashion and the official photo released with the news of his appointment points to his professional stylings: a simple black top, a sleek silhouette, and strong singular colour echoing the Valentino fuchsia collection.
It's a big break from the outgoing Gucci creative director, Alessandro Michele. Also a relative unknown when he took the job eight years ago, Michele brought in a new era for the Italian fashion house.
His floral maximalist designs and embrace of gender-neutrality in his shapes defined the last decade of Gucci's runway presence. Michele also reintroduced the "double-G" Gucci logo and feminised much of the menswear. 
Marco Bizzarri, President and CEO of Gucci, commented: "I am delighted that Sabato will join Gucci as the House's new Creative Director, one of the most influential roles in the luxury industry."
"Having worked with a number of Italy's most renowned luxury fashion houses, he brings with him a vast and relevant experience. I am certain that through Sabato's deep understanding and appreciation for Gucci's unique legacy, he will lead our creative teams with a distinctive vision that will help write this exciting next chapter, reinforcing the House's fashion authority while capitalising on its rich heritage."
"I am deeply honoured to take on the role as Creative Director of Gucci," said De Sarno. "I am proud to join a House with such an extraordinary history and heritage, that over the years has been able to welcome and cherish values I believe in. I am touched and excited to contribute my creative vision for the brand."