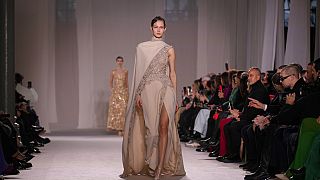 -
Copyright

Christophe Ena/Copyright 2023 The AP.
The Elie Saab spring-summer 2023 Haute Couture collection exudes royalty and opulence. 
Grand silhouettes of cape coats and embroidered dresses fill the collection, giving way to an illusion of a golden dawn. Quite frankly, it's a collection that's made for red carpets and grand ballrooms. There's nothing about it that's basic. But when do Lebanese designers ever create basic pieces?
"We are a big machine and our studio of Haute Couture started to work on the collection six months ago. It represents the beauty of Thailand," Elie Saab told Euronews Culture. Saab may not come off as passionate but serious, but when you enter his presence you see he's very passionate about what he does. 
The quality and opulence of his collection, along with the reputation of his maison wouldn't be at the level it has reached without passion. And it's this passion coupled with wanting to make a woman feel beautiful through dress that drives him. If you were to ask a Western woman to name a Lebanese designer, Elie Saab would undoubtedly be the first, and possibly the only name of their lips. 
"I know and I realise how far I've come; I always keep my feet on the ground no matter what," he muses. "Every now and then I do a self-assessment on all the accomplishments in my career. When I look back at the start of my journey, I am grateful and happy of what I have achieved. Today Elie Saab is working on becoming more global, it is evolving into a lifestyle brand. There is much more to accomplish, always working hard on creating new things and evolving. Challenges and hard work are crucial for maintaining the success and for the growth of the brand."
There has to be a secret to his sauce of keeping the Elie Saab name internationally relevant. But, his answer is simple and it goes back to his passion: "Since the beginning of my journey, my aim was to make the brand highly perceived on an international level. Today, Elie Saab goes beyond the region. I don't only focus on the Middle East market but internationally. We try to cater women in all different parts of the world. Since day one, I've worked with Arab talent and celebrities, and today we work with international celebrities, royalty, and global inspired names. These placements and collaborations play a major role in inspiring different generations from around the world," Saab giggles from behind his sunglasses.
A one-of-a-kind designer, Elie Saab has been perfecting craftsmanship couture for more than forty years. 
Emerging in 2002, he was propelled on on the world stage when  American actress Halle Berry wore one of his gowns to the Academy Awards, where she won the Best Actress Oscar for Monster's Ball.
He's since blazed a trail for Lebanese designers to follow in his path. Ever humbled, perhaps too humble if there is a thing, Saab patiently stated backstage to greet those eager to meet him after the show.
Royal relation
Completely inspired by the kingdom of Thailand, Saab was moved by its rich culture and splendour, of its natural scenes and rituals, describing the collection as "an indulgent escape from the ordinary."
"Each majestic piece is intricate and ornate, carefully created with impressions from the natural scenes and rituals of the revered kingdom of Thailand," he says.
Staying mostly in a taupe rose gold colour palette, the looks radiate and sparkle with, "shimmering rhinestones and crystals that weave into delicate metallic tresses," noted the Maison. "We used a lot of fabric in the collection. Satin is very present and personally, light fabric like tulle and lace that give volume and character to the dresses."
A collection complete with sixty-nine looks, gowns include pearls and crystals, which are paired with Asian images like the naga dragon, crystal rose lotus flowers, and koi fish. Asymmetrical bodices and plunging sweetheart necklines give a romantic feel to this very cultural collection.
Speaking of that special oomph that Lebanese designers bring to the world of haute couture Saab states: "What is important to me is to make the woman wearing Elie Saab comfortable and beautiful. She should feel empowered and confident while highlighting her character, personality, and figure. The Lebanese designers always highlight the shape of the woman's body while accentuating the curves and celebrating the sculpture of the dresses."
The Maison has created collections based on faraway places, but this season it was all about the elevated regal essence of Thai culture. Post show people were clamouring to greet Saab, to get a photo and let him know their thoughts on the collection. As he patiently stood, saying hello to almost everyone, it's clear his passion for fashion and for life will ensure he remains a beloved haute couture master around the world.