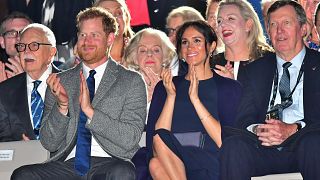 Copyright

Samir Hussein WireImage
-
By Julie Pennell with TODAY Lifestyle
It's been quite a big week for the Duke and Duchess of Sussex as the pair kicked off their tour of Australia with the announcement that they've got a royal baby on the way.
All eyes have been on the adorable expecting parents during their trip, and the weekend's events were no exception.
On Saturday in Sydney, the couple attended the opening ceremony for the Invictus Games, a multi-sport event created by Prince Harry for injured and wounded service members. The newlyweds arrived in coordinating attire, the prince's royal blue tie matching with his wife's navy dress, sweater and sapphire earrings.
"I want to say something directly to our hosts, the people of Australia," the prince said in a speech at the event. "I have been so proud to be able to introduce my wife to you, and we have been so happy to be able to celebrate the personal joy of our newest addition with you all."
Harry and the former Meghan Markle also matched earlier that day (we're sensing a pattern here!) as they both donned black Invictus Games shirts to play with children and remote controlled cars.
The two looked like naturals with the kids, a major theme of the week. Days before, they received hugs from a sweet 5-year-old boy with Down syndrome, and later, the duchess proudly donned a pasta necklace made by a 6-year-old fan.
And even earlier Saturday — before the casual black tees and matching blue evening wear — the duke and duchess had yet another event to dress up for: the official opening of the extension of the Anzac Memorial in Hyde Park. Harry looked regal in his official military uniform while the duchess appeared in an elegant, black dress by New Zealand-born designer Emilia Wickstead.
In addition to stops in Australia, the couple's 16-day autumn tour will also include cities in Fiji, Tonga and New Zealand. While the Zika virus (which could cause birth defects if a pregnant woman contracts it) is present in Fiji and Tonga, the duke and duchess reportedly sought medical advice ahead of the trip and decided to move forward with plans.