Harry and Meghan's wedding attire are the centrepieces of the 'Relive the Royal Wedding' exhibition
Comments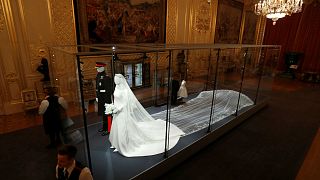 Harry and Meghan's wedding attire are the centrepieces of the "Relive the Royal Wedding" exhibition, opening today at Windsor Castle.
The Duke and Duchess of Sussex were very involved in the display preparations, providing personal insights into their big day, according to Caroline De Guitaut, Senior Curator of Decorative Arts for the Royal Collection Trust.
"Their input is obviously so vital, it's so personal, it's about their wedding day and they very generously consented to being interviewed...so that they could tell the visitors all about the planning that went into that special day", she explained.
Also on display are Prince George's and Princess Charlotte's outfits, as well as sketches of the bride's Givenchy dress.
De Guitaut describes the gown, "It's made from a specially woven fabric - double silk cady - which is completely unique to this dress, specially created for it and this gives the dress this wonderful luminosity."