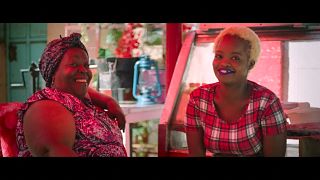 'Rafiki', a girl-meets-girl romance screening at Cannes, will not be shown in Kenya, where it has been banned.
It's a double-edged sword for director Wanuri Kahiu, who is sad her film will not be seen by the audience she made it for, but knows the publicity is likely to get more people to see it elsewhere in the world.
"We made this film for a Kenyan audience, we made this film with Kenyans in it. So the people who made the film and the audience we made it for won't be able to see it," she says. "And that's tragic because nobody else will understand the language and the nuances and the neighbourhood the same way a Kenyan audience would."
'Rafiki', about two young women who live in the same Nairobi housing estate, is the first Kenyan film in the official selection at the Cannes Film Festival and initially was endorsed by authorities in the east African country, but last month the Kenya Film Classification Board banned it for promoting homosexuality.
Kahiu said her actresses were "incredibly brave" and one said she was initially unsure about accepting the role in a country, and continent, where homosexuality is still widely taboo.
"I was very hesitant because I literally now was getting into the industry and trying to make a name for myself, and I thought: how would this reflect back on me as an actor and how would people perceive me once the film was done," said Sheila Munyiva, who plays Ziki. "But they sent me the script and I read it and it was incredibly amazing. All the main characters were women, and they were strong women and they had voices and they were speaking such important things and I felt that it was a privilege for me to do it."