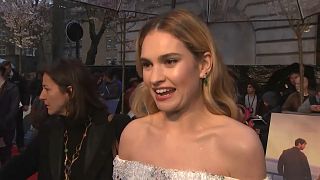 British actress Lily James stars in "The Guernsey Literary and Potato Peel Pie Society." Based on the novel of the same name, the film is set during the Nazi occupation of the Channel Islands off the coast of Normandy during World War Two.
The movie's unusual title refers to an eccentric book club, formed by one of the islanders during the occupation.
James plays a London-based writer who forms a bond with the island's residents when she begins corresponding with them and decided to write about their experiences during the war.
"It's a film I really loved making so much," said James at the premiere in London. "It's got such a beautiful feel, such an amazing cast. Such brilliant characters and it's a story I really cared about so it's really exciting to be here today."
The film was directed by Mike Newell, best known for "Four Weddings and a Funeral" and "Harry Potter and the Goblet of Fire."
The movie had its world premiere in London on Monday and is released in the UK on April 20th. International releases will follow.