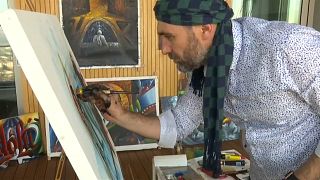 Ahmet Sula is a police officer by day and an artist by night. His 30-year career in Turkish law enforcement has included a spell with a special anti-terror unit in Istanbul. But Ahmet thinks his most powerful weapon is not a gun but a paint brush, and that he has seen much more of the evil side of life than most artists.
"If you ask me how do I serve the people the most? I would say through art," Senior police chief and former Deputy Head of Terror Division Ahmet Sula said.
"Many artists who involved with fine arts have not gone through what I have experienced and what I have seen. There is no door art can't open. Art is so universal that it goes to unimaginable places. It has a butterfly  effect."
His mostly abstract paintings show signs of contemporary and Ottoman art and have been in 21 exhibitions, four of them overseas and 17 in Turkey. Ahmet Sula is currently gearing up to open his first exhibition in Rome in 3-4 months' time.