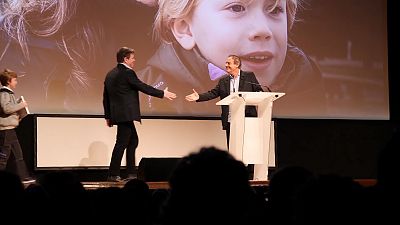 The International Film Festival and Forum on Human Rights in one of Europe's leading international events dedicated to film and human rights.
The festival takes place in Geneva, the human rights capital. This year we celebrate the 70th anniversary of the adoption of the Universal Declaration of Human Rights by the United Nations in 1948.
This year's winner of the Grand Prix for best documentary is the film Stranger in Paradise by Guido Hendrix.
This Dutch documentary is set in a classroom in Sicily, where a teacher welcomes three different groups of newly arrived refugees – each time he adopts a different attitude: He's dismissive in the first part, then full of empathy and good will in the second. In the last part, he represents actual European immigration policy, with all its complex rules. The film director shows where the refugees' dreams clash with reality and forces us to think hard about our own position.
The award offered by the World Organisation Against Torture went to the film "Libya: War by rape" by Cécile Allegra.
In Libya, hundreds of militias loot, kidnap and torture. Rape is used as a systematic weapon of destruction and humiliation. Men also get raped in prisons – as for women, to speak up is to dishonor their families and community for generations –
What has emerged is a machine for raping that targets men throughout the country, says Allegra, the film's director. "And it has one goal, to dominate and subdue others and wipe them of the political landscape. So it's the extension of rape as a weapon of war and an attempt to get rid of whole sections of men from the political decision-making process."
"Cinema can and must be more than entertainment, says our correspondent," Wolfgang Spindler. "This festival wants to increase the awareness of what is going wrong in our world and the atrocities committed around the globe every day."