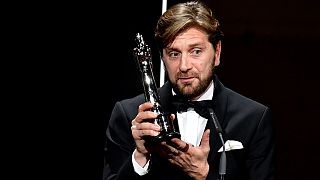 Celebrities hit the red carpet for the 30th edition of the European Film Awards, Europe's arthouse equivalent of the Oscars.
Nationalism, the oldest and worst European disease. How can it possibly creep back into our present tense?

Film director
The awards were launched in Berlin a year before the fall of the Iron Curtain, at a time when making movies in a divided Europe was a major hurdle for filmmakers, who often relied on national budgets alone to fund their work.
Among those honoured at the event were Franco-American actress and film director, Julie Delpy, with a European Achievement in World Cinema award and Russian filmmaker Aleksandr Sokurov, who received a Lifetime Achievement Award.
Special Awards
Over a career spanning four decades, Sokurov has been an inspirational voice in Russian and European cinema, both artistically and for his commitment to freedom of speech.
His most significant works were screened as part of a retrospective in Berlin.
French-born Delpy, who lives in New York, started acting at the age of 14, in a Jean-Luc Godard movie. A writer, director, producer and composer, she has worked on some 70 films over a career spanning thirty years.
"For me it means a lot to receive a prize from a European committee, because for me European cinema is priceless – its artistic, intellectual and cultural value are extraordinary," said Delpy on red carpet.
Actress and director Julie Delpy with her statue and raffle tickets, she is raising money for the production of her next film. #efa2017pic.twitter.com/k0gfURrC5o

— Emmanuelle Saliba (@_esaliba) 9 décembre 2017
'The Square' cleans the slate
There was little doubt over who the true stars of the evening were: Swedish director Ruben Östlund and his team picked up no less than six awards for 'The Square', including Best Film, Best Director and Best Actor.
Asked what it meant to him, Östlund said: "What it means for me?" He turned to his lead actor, Denmark's Claes Bang. "I was really, really happy that you won Best Actor, I think you really deserve it, and then I also think Best Director… I was super happy because I think the competition when it comes to best director was really hard."
It's the first time the acting gong has been awarded to a Dane: "For an actor to be trusted in that way, to find out that you actually have that sort of trust with the director that he actually allows you that time and space to investigate and explore… it has been amazing, it has been the most insane thing in my acting career, really, yes," said Bang.
'The Square' also won in the Comedy, Screenplay and Production Design categories.
Following on from its success in Cannes, where it took the Palme d'Or, and at the European Film Awards, 'The Square' has been nominated in the Best Foreign Language motion picture category at the Golden Globes.
Fresh from success at the European Film Awards EuroFilmAwards</a> <br>Ruben Östlund&#39;s &#39;The Square&#39; is nominated for Best Motion Picture- Foreign Language at the <a href="https://twitter.com/hashtag/GoldenGlobes2018?src=hash&ref_src=twsrc%5Etfw">#GoldenGlobes2018</a> <a href="https://t.co/jObUEUkdjW">pic.twitter.com/jObUEUkdjW</a></p>&mdash; scanoir.co.uk (scanoircouk) 11 décembre 2017
Emotional Best Actress
Best Actress went to Hungary's Alexandra Borbély for her role in 'On Body and Soul' by Ildiko Enyedi.
The actress burst into tears and choked through her short speech: "I can't speak… I have written everything but I can't read it, thank you."
The bizarre and brutal tale of two lovers in a Budapest slaughterhouse, 'On Body and Soul' has earned critical success on the film festival circuit and picked up the Golden Bear in Berlin earlier this year.
Wim Wenders furious at "an old monster called nationalism"
An emotion-filled event, the European Film Awards was a chance for Europeans to come together in times of rising nationalism.
The European Film Academy president, Wim Wenders, gave an emotional speech, saying he furious today because of ""an old monster that we thought we had buried, called nationalism":https://www.theguardian.com/film/2017/dec/10/the-square-triumphs-with-six-prizes-at-european-film-awards-berlin… the oldest and worst European disease. How can it possibly creep back into our present tense?". The strength of European film offers great promise for the future of Europe against the "simplifiers, the oligarchs, the enemies of freedom whether they sit in Washington, Moscow or Tehran," he added.
The emotional speech of EFA President Wim Wenders at #efa2017, remembering the Berlin of 30 years ago, divided city in a divided Europe, and how nationalism – "the oldest and worst European disease" – is getting back in our lives. Let's spread his message https://t.co/hem98EjicOpic.twitter.com/YyOOb1KH3F

— European Film Awards (@EuroFilmAwards) 11 décembre 2017