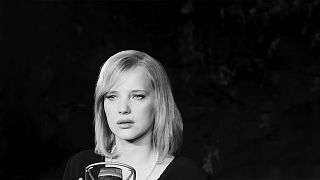 Seen by many as Europe's Oscars, the European Film Awards will take place this weekend (Saturday 15) in Seville.
Ahead of the award ceremony Wim Winders, the President of the European Film Academy spoke to euronews, taking a look back at the annual event which began in 1988.
"From the beginning, we never wanted to do a show where we showed off and said, "And the winner is..." We wanted to pay tribute to the nominees and celebrate the whole of European cinema," Winders said.
This year's top favourites are dominated by movies that won at Cannes, including Pawel Pawlikowski's ''Cold War''. The 1950s-set love story, shot in black and white, leads the pack with five nominations for best film, best director, best actress and actor and best screenwriter.
Italian drama "Dogman is nominated in four categories, including best film and best director. The story centres on dog groomer and petty drug dealer, Marcello Fonte. who ends up being terrorised by a violent boxer.
Swedish fantasy film "Border" directed by Ali Abbasi also has four nominations. The story focuses on a customs officer, played by Eva Melander, who has an unusual ability to detect contraband. Both Abbasi and Melander are up for awards.
Another Italian film among the front runners is "Happy as Lazzaro". It tells the tale of a meeting between a young peasant and nobleman. Along with a best actress nomination for Alba Rohrwacher, sister Alice Rohrwacher could win a best director and best screenplay award.
"Girl," a Belgian drama about a transgender teen who dreams of becoming a ballet dancer is nominated for a best picture award. Samuel Maoz also has the chance to pick up a best director gong for his controversial war drama Foxtrot.
Elsewhere, English actor Ralph Fiennes, who starred in Steven Spielberg's 1993 epic " Schindler's List " as well as "The English Patient " "The Reader" and "The Grand Budapest Hotel" will be honoured with this year's European Achievement in World Cinema award, while Spanish actress Carmen Maura, famous for the films she made with Pedro Almodova, is also set to receive a Lifetime Achievement Award.