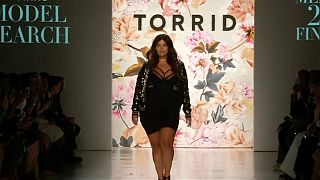 Plus-size retailer Torrid made its New York Fashion Week debut on Tuesday featuring 40 full-figured models.
The Spring 2018 collection featured the models dressed in boho inspired dresses paired with leather jackets that gave the collection a touch of edge.
"Over 60 percent of the women in America are considered plus size," Torrid designer Elizabeth Munoz said.
"The fashion industry can keep passing and keep saying I'm not going to acknowledge that but there's going to be a point where they can't ignore the fact that most of the available population to sell to is a size that they don't make."
Torrid, which sells clothing, shoes and accessories for women sizes 10-30, also used the show as a stage to present the ten women selected from its third annual model search, which will give one model the opportunity to become the face of the brand.
Finalist Maria Gimena got the courage to try out after seeing plus-size models such as Ashley Graham, who have similar features as her, booking campaigns and walking the runway.
Reflecting on her journey, finalist Seairra Thompson, a student from Las Vegas, Nevada said people made her believe she didn't deserve to love fashion because she was a size 10.
"It took a lot of self-discovery and a really big journey for me to realize that I love fashion," Thompson said. "I love everything about it. And I should be a part of it. There's no reason for me not to be a part of it."