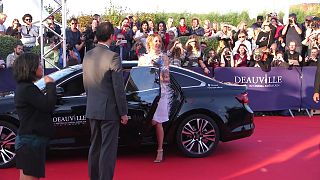 A glamourous jury presided over by Oscar-winning director Michel Hazanavicius has opened Deauville's famed American film festival.
Kicking off the event, actress Laura Dern was presented with a special tribute.
With a career spanning over 30 years, the Oscar-winning actress and frequent David Lynch collaborator, has worked with some of the greatest film directors.
She says the secret to success is to never stop taking on new challenges.
"Well, you know it seems to continue to start over and over and over and over, because if you want to continue to be an actor, you hope to continue to reinvent through character and have self-discovery be part of the art. So I think it's just beginning."
In the wake of recent attacks, the small French seaside town was under extra tight security for the 43rd edition of the event.
Euronews's Lise Pedersen was on hand to report on the event: "A total of 14 films are competing for the top prize at this year's Deauville festival, a rich selection that reflects the diversity and creativity of contemporary American cinema, from Hollywood blockbusters to smaller-budget independent movies."
Another guest of honour was British actor Robert Pattinson, who, according to Deauville tradition, was given his very own beach locker room.
He took his time signing the famous golden book to the cries of delighted fans.
Pattinson told Euronews: "I've been intending to come to Deauville for, I think, four years or something, and then to suddenly come and have this kind of amazing honour, I'm kind of stunned, I don't really know what to make of it, but it's amazing."
Pattinson's latest film 'Good Time', a dark thriller about a bank robbery gone wrong, was screened out of competition in Deauville.
The Twilight series star recently worked with relative rookie directors the Safdie brothers Josh and Ben.
On the red carpet, film director Josh Safdie told Euronews: "We wanted to make a piece of pulp, something that felt dangerous, you know, a modern-day neo-noir, neo-grindhouse film, and we wanted to reflect society back onto itself. And America – say what you want – is a land of incredible possibilities, but it's also pretty dark right now, and the reflection that you're seeing is just a reflection of the darkness."
Also gracing Deauville's Promenade des Planches – France's version of the Hollywood Walk of Fame – was A-lister Jeff Goldblum, who turned up with his family for the occasion.
Asked about the secret of his happiness, the notoriously jovial Goldblum, for whom acting is a childhood dream come true, said the answer was simple: "I do practice, and it's not hard for me as you can imagine, to practice a kind of daily and active gratitude, I do remind myself what I am very thankful for. I feel unbelievably, miraculously lucky to have gotten a chance to do this at all and to keep getting chances for a few decades, and to work with good people. A day doesn't go by when I don't thank my lucky stars."
The Deauville audience were treated to a song and dance by the actor, who gave a rendition of 'Quand je pense a Fernande' in French.
The winners of the Deauville Film Festival will be announced on September 9th.