Behind the scenes at a film festival
Comments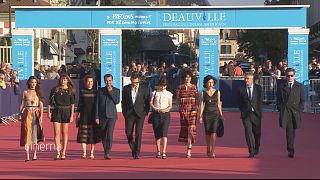 Forty two years ago, visionary French writer and television producer Lionel Chouchan and his friend author and publicist Andre Halimi came up with the idea of creating an American film festival in France. More than four decades on, it remains a unique platform for both established and big budget productions as well as talented indie cinema.
For a journalist covering the event, the excitement of discovering new movie gems only equals that of having a chance to interview those who make them.
That's how I feel on the first day of the festival, when my cameraman Frédéric and I are setting up for an interview with Michel Hazanavicius in the beautiful gardens of Deauville's luxury Normandy hotel. If you are not a cinephile, his name may not be familiar to you. But pretty much everyone has seen or at least heard of his five-time Oscar-winning movie 'The Artist' (2012). This year, Michel Hazanavicius has been invited to head the jury in Deauville. As Aïda from the festival's organizing team introduces us, I know I only have the usual fifteen minutes to try and get into this man's mind and obtain the answers I am looking for. It may not sound like much, but by TV standards, that's quite generous. As I direct him to the cosy wooden bench we have placed in a nice spot under the apple tree, he reaches up and tries to pick one. Tall and lanky with geeky specks and a serious gaze, Hazanavicius is funny. His films, apart from the 2014 war drama 'The Search' – which didn't seduce critics or the public – are laugh-out-loud comedies that make you feel good. Though he does tell me that as president of the jury he has no intention of imposing his taste when it comes to deciding who will win.
And judging from the films I have seen so far, that's just as good. From the ethereal, melancholy 'A Ghost Story' by David Lowery ('Peter and Elliot the Dragon') starring Casey Affleck as the title's phantom (white sheet and all) through Iraq war PTSD drama 'The Yellow Birds', the tender and fascinating 'Menashe' or young actor/director Daryl Wein's poignant 'Blueprint' about racism and police violence in America, jury members will be spoiled for choice when it comes to electing a Grand Prix winner.
The beauty of the festival's rich selection of movies is that low budget first films by talented young directors rub shoulders with big bucks studio productions featuring A-listers like Glenn Close ('The Wilde Wedding', Damian Harris). And however many heated debates you may have with fellow journalists after screenings, there is no guessing what a given jury will decide. That, too, is the beauty of a film festival.
While, of course, it's all about movies young and old, it is also a chance to pay tribute to personalities who have left their mark on the world of cinema. I was fortunate this year to meet one of the most charming and gracious artists I have encountered. During the interview, Jeff Goldblum did what he does best: he turned the tables and started quizzing me about everything from my full name (which, incidentally, he remembered perfectly as he 'thanked me for my time' after the interview) to where I come from and the names of my children (we happen to both have a Charlie). I quickly had to straighten things out as the time allocated was short. I clearly wasn't the only one who fell under his spell as the entire audience gave him a lengthy standing ovation after he treated them to a frenzied and fantastic rendition, in French s'il vous plait, of Georges Brassens' 'Quand je pense à Fernande' (if you don't know it, you have to google it!).
Then there are also those moments during a film festival when you don't get that interview you had been hoping for, or the red carpet quote you needed, or you wonder how the film you just saw made it through the selection process. When you wait under the pouring rain for a film director to make his appearance on the red carpet. And when you regret having that third coffee – essential fuel when covering festivals, with screenings starting early and finishing late, interviews and deadlines to meet and the occasional late-night drink with colleagues to exchange about the day's movies and encounters, upcoming events and talents to look out for.
And just the thought of those amazing, sometimes life-changing movies and encounters yet to come, the chance to share them with an audience, makes me giddy as I prepare for the next festival.