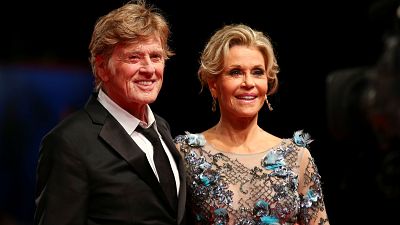 Jane Fonda and Robert Redford were honoured with lifetime achievement awards at the Venice Film Festival.
The pair were awarded the Golden Lion at the premiere of Our Souls At Night .
Half a century after playing a young couple in "Barefoot in the Park", the duo reunited in a Netflix production directed by Indian filmmaker Ritesh Batra about getting another chance at love late in life.
Redford, also the movie's producer, wanted to make the film because so few movies are geared towards older audiences.
He also wanted to make another film with Fonda before dying.
"Jane and I have a long history in film and I wanted us to have another chance and we are getting older," Redford said.
The movie, which screened in the out-of-competition section at the festival, tells the story of Addie Moore and Louis Waters, two retired and widowed neighbours living in a small town in the U.S. state of Colorado.
They have known each other most of their lives but rarely spoken. That changes when Addie knocks on Louis' door one night and asks: "Would you be interested in coming to my house sometime to sleep with me?"
What starts as simply having bedtime conversations to help Addie fall asleep, soon goes deeper.
They start sharing their long-silenced regrets about life-changing events in their married lives – Louis' extramarital affair and Addie's loss of a daughter – and the resulting difficult relationships with their adult children.
"For me the movie is about hope," Fonda said about the adaptation of a Kent Haruf novel.
"If you're willing to make a leap of faith, you can become what you were meant to be even if you've never been that before."
While Redford lamented the fact that when you get older "you have to give up certain things", Fonda said at least when it comes to love and sex, getting older was a good thing.