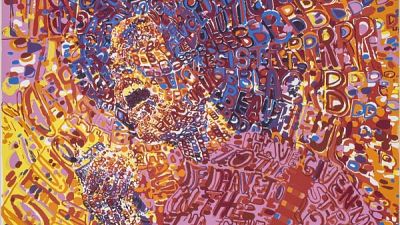 A new exhibition of the art that came out of the American Civil Rights movement as well as the politics of black identity has opened at London's iconic Tate modern museum.
Called "Soul of a Nation: the art of Black Power", it examines the triumphs and tragedies of the civil right movement in the US from the 1960s to the 1980s.
'Extraordinary times call for extraordinary shows' – Independent. #SoulofaNation opens tomorrow at Tate Modern: https://t.co/XkRpYDthTBpic.twitter.com/H6KZH7AjPY

— Tate (@Tate) July 11, 2017
"What are the limits or expansiveness of a question or a subject area like "Black Art," is that there's not one answer to the question… we use this exhibition and we're led by the artists, and used each artist and let them tell their version of the answer to that question, or allowed them to reject the question," Zoe Whitley, the co-curator of the exhibition said.
Black Power was a rallying cry for African American pride, autonomy and solidarity, drawing inspiration from newly independent African nations.
How did the Civil Rights Movement influence black-American artists? Tate</a> Modern's <a href="https://twitter.com/hashtag/SoulofaNation?src=hash">#SoulofaNation</a> exhibition opens today. <a href="https://twitter.com/hashtag/NationalArtPass?src=hash">#NationalArtPass</a> <a href="https://t.co/Via9WSuGmJ">pic.twitter.com/Via9WSuGmJ</a></p>— Art Fund (artfund) July 12, 2017
Some of the works presented featured some key black figures, who used their platform to speak out against injustices faced by black people at the height of the civil rights movement.
The show runs until October the twenty second.
Soooo much great art at the #tatemodern for the #soulOfANation exhibit. This was my fave. pic.twitter.com/E66yOhkIri

— Jasmine Dotiwala (@jasminedotiwala) July 11, 2017
Blockbuster alert: 'Soul Of A Nation: Art In The Age Of Black Power' coming soon at Tate</a> Modern. <a href="https://twitter.com/hashtag/SoulOfaNation?src=hash">#SoulOfaNation</a> <a href="https://t.co/HIVpg4ITTl">https://t.co/HIVpg4ITTl</a> <a href="https://t.co/8Pfo13E74d">pic.twitter.com/8Pfo13E74d</a></p>— Momart (MomartLtd) July 5, 2017
Opening tomorrow, Tate</a> Modern exhibition aims to be a 'turning point' for African-American artists <a href="https://t.co/WvxHogxF0p">https://t.co/WvxHogxF0p</a> <a href="https://twitter.com/hashtag/SoulofaNation?src=hash">#SoulofaNation</a> <a href="https://t.co/WwGz4d8lFA">pic.twitter.com/WwGz4d8lFA</a></p>— The Art Newspaper (TheArtNewspaper) July 11, 2017