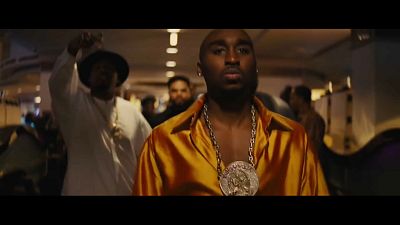 A new movie about Tupac tells the untold story about the US rapper's upbringing, childhood and beliefs.
Tupac Shakur was one of the world's most influential entertainers.
Demetrius Shipp Jr. plays Tupac, who died from his injuries about a week after being shot at the age of 25.
"He was the voice of the people and he spoke to real issues all across the world and his music was just very relatable to all people really in general," said actor Demetrius Shipp Jr, who plays Tupac in the movie.
Kat Graham plays a friend of Tupac from the Baltimore School for the Arts
"He's somebody who inspired a lot of people and had a deeper message in his music and even in his interviews and he's timeless," Graham said at the movie premiere.
"All Eyez on Me" is out now across Europe.
Will there ever be another Tupac? See why Pac's artistry is unmatched to this day in #AllEyezOnMe. pic.twitter.com/pfNTbsLU4Q

— All Eyez On Me (@alleyezmovie) June 28, 2017