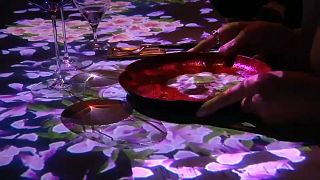 It is a meal with a difference in Japan as interactive virtual art is added to the menu.
A restaurant in Tokyo is offering a 12-course fusion meal complete with the likes of butterflies and birds fluttering about the plates.
Large fish also swim across the table.
The experience uses the latest technology in sensors, projection mapping and sound.
One diner said: "It's an experience on many levels for sure.
"We've been playing with our food, almost. It's a grown up version of that I would say."
The scenes change as each course is brought to the table.
And thanks to artificial intelligence, no two dining experiences are the same.
It all depends on the movement, number of plates and customers.