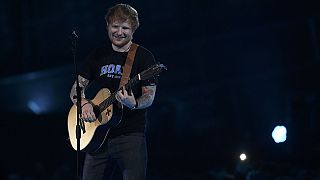 British singer-songwriter Ed Sheeran capped off a chartbusting week with a place in the record books, as his new album became the fastest selling by a male solo artist in the UK.
Divide sold 672,000 copies in its first week, making it the third highest selling disk of all time behind Adele's 25 and Oasis's Be Here Now.
"Wow! What a phenomenal week. I'm buzzing," Sheeran said.
Shape of You was the top selling single for the ninth week, with the entire top five singles composed of other songs by the 26-year-old artist, completing his chart domination.
Divide can be summed up as a perfectly calculated pop album – with tracks stretching his musical abilities, jumping from soft ballads to hip-hop impressions.
Fans eager to catch Sheeran take note. He will embark on a world tour starting in Italy on March 17, and play dates in stadiums across Europe and Latin America, before embarking on a North American tour in June.