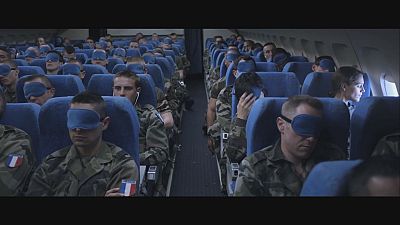 'Voir du Pays' or 'The Stopover' is a psychological drama about two French female soldiers trying to put the events of Afghanistan behind them.
Their mission in Afghanistan is over now it is time for a debrief and to relax in a hotel resort in Cyprus.
They have three days to forget their experiences in Kabul. But it is difficult to shake off the memories.
It is directed by the Coulin sisters who were also the screen writers. The French title 'Voir du Pays' is an ironic take on war.
"It is full of irony actually. When the soldiers get involved they are told they will see the country. That's ironic because they do not see anything.
'That is not the purpose of the war, it is not to see the country. The aim is to win the battle and kill people," explained Muriel Coulin.
The characters Aurore and Marine are very dynamic. They joined the army to escape from their town and for the money. They want to discover the world, to take risks, to see what it feels like to be inside a male dominated world. French actress and singer Soko is Marine.
"It is a woman's point of view on what it is and what it feels like, from the inside, to be surrounded by a male dominated community and suffocating, as a woman.The character that I am playing is so masculine and violent and completely shut off emotionally and I am the complete opposite," she told euronews.
Violence e is at the core of this movie. How can we live with it, what we can do with it. Is there a way to resist violence especially after the terrorist attacks in France?
"Our film shows when the designated enemy no longer exists, when these soldiers return to France, the Afghan enemy no longer exists, and suddenly they look for another enemy is it a stranger, a woman, a traitor?" opined Delphine Coulin.
The Coulin sisters win Best Screenplay from the UCR jury for their film The Stopover. #Cannes2016pic.twitter.com/VPQfKy6lmj

— Women Film Directors (@women_direct) May 21, 2016
"Voir du Pays" won the screenplay prize at the "Un Certain Regard" section of Cannes Film Festival in 2016.
Already released in France and Greece, the film hopes to find new markets this year.